After Obama,Now British PM Cameron to visit Kenya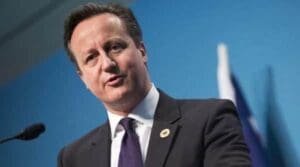 NAIROBI, Kenya, Sep 6 – British Prime Minister David Cameron is expected to visit Kenya early next year.
The visit follows an invitation by President Uhuru Kenyatta for Cameron to visit Kenya "in the early part of 2016."
Sources have told Capital FM News that President Kenyatta wrote to Cameron in July this year extending the invitation.
"The visit will accord us an opportunity to consult on a wide range of issues of mutual interest at bilateral and multilateral levels," the invitation letter says.
The two leaders are however likely to meet earlier at the United Nations General Assembly in New York later this month.
The last time the two leaders met was in London in 2013 during a conference on the Somalia conflict. At the time, President Kenyatta was still facing trial at the International Criminal Court but the case has since collapsed.
Next year's visit will be the first to Kenya by a sitting British Prime Minister and follows the first visit by a sitting US President. President Barack Obama made a landmark visit to Kenya in July.
In May this year, Cameron won the first Conservative majority since 1992.
The 48-year-old PM has promised to step down as leader before the next election in 2020, raising the prospect of an internal party race to succeed him well before then.
The son of a stockbroker, Cameron was educated at the elite Eton College and Oxford University.
On graduating, he worked for the Conservatives as an advisor before a stint in public relations which ended when he was elected to Parliament in 2001.
He was elected Conservative leader in 2005, aged 39, pledging a more "compassionate Conservatism" that would reach out beyond the party's base.
Cameron prioritised the "detoxification" of what one of his leading ministers called "the nasty party" by avoiding traditional right-wing issues such as immigration and stressing a more liberal agenda.
In 2010, Cameron became Britain's youngest prime minister for 200 years but his options were limited by the fall-out of the global financial crisis and the constraints of coalition government.
His first term was defined by spending cuts and wrangling over Britain's role in the EU.
-capitalfm.co.ke