Khalwale must apologise for 'insulting' Luhya leaders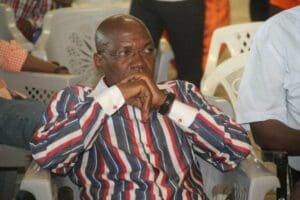 Wanga elders want Kakamega Senator Bonny Khwalwale to apologise over radio comments they said were "grave insults" to their "sons" and the tribe.
The Council of Elders said Khalwale issued the "demeaning" statements on vernacular radio station Mulembe FM on September 15.
They claimed the Senator described the National Assembly deputy chief whip post, held by Mumias East MP Benjamin Washiali, as "a very junior position not worth recognition".
"He also described the position of the ODM national youth leader, held by our son Rashid Mohamed, as too junior to that of MCA, and the holder not fit to appear at functions presided over by either the president or the DP," said chairman Andrew Okumu.
"The Wanga Council of Elders views the statement as gross disrespect to the Wanga tribe and the Luhya community at large because the two positions are held by our own sons."
Speaking in Mumias town on Friday, when the council addressed the press, Okumu noted that the Wanga tribe has "great respect" for the two offices.
The council respects alll holders of national posts, Vice chairman Gabriel Atoko said, adding; "Leaders from the Luhya community holding such positions must be respected".
He said unity among the Luhya has not been achieved as elected leaders "do not appreciate each other, lack direction and mislead the community".
The elders asked Khalwale to apologise on the radio station and warned Western leaders against issuing statements that undermine the Luhya and the nation, saying they will not support them.
They included council secretary Bruno Anekeya, assistant secretary James Lutomia, and members Juma Angwero and Ali Malichi.
Khwalwale maintained the positions "do not benefit the community", but said he recognises and respects Washiali as a representative of Mumias East constituency.
"We do not want to hear of positions which do not add value to the Luhya community. We want big things from the government, Khalwale told the Star on phone on Saturday evening.
He said the community requires its rightful share of the national cake.
– the-star.co.ke