MP Shabbir reveals how Nyanza leaders gave ICC evidence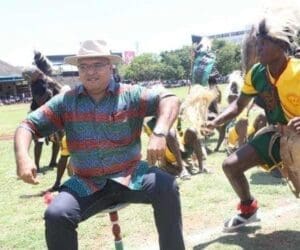 Kisumu, Kenya: The debate over who 'fixed' Deputy President William Ruto at the International Criminal Court ( ICC) where he is facing charges of crimes against humanity continues to take different dimensions.
Kisumu East MP Shakeel Shabbir has now admitted Nyanza leaders presented evidence to the ICC over the 2007/2008 post-election violence cases.
The legislator, however, said the evidence given, and which was not used by the prosecutors, only targeted former police boss Hussein Ali.
The MP's sentiments have brought a new twist to the debate on the cases facing Mr Ruto where leaders from opposing political camps are accusing each other of being behind the 'fixing'.
Both Government and Opposition leaders have been trading accusations on who is behind the cases with allegations of coaching and bribery of witnesses taking centre stage, especially after Gatundu south MP Moses Kuria went public that he aided the coaching of witnesses to appear before the justice Phillip Waki commission.
With most of the post 2007 election deaths from Nyanza having been caused by bullets, the police were accused of using excessive force against the public exercising their right to demonstrate.
And in the latest claim, which has hinted the Opposition's hand in the ICC cases, Mr Shabbir admitted that Nyanza leaders submitted post-mortem reports of the 87 people who died from bullet wounds and photos of how police brutally beat people during the chaos, which claimed over 1,300 lives and over 300,000 displaced.
Addressing the public during the Mashujaa Day celebrations at Jomo Kenyatta grounds, Shabbir who did not mention individual names, said area leaders gave the evidence after reports emerged that the 87 people had been killed by the police.
Given that Mr Ali was the head of the police, Shabbir said that was reason enough for the leaders to give ICC the evidence to show that police were involved.
"When the police boss was acquainted, it was clear that our evidence at the ICC cases was not used. It is, therefore, not advisable to keep revisiting the issue by opening the secret envelopes. Let us move on," said Shabbir.
He said debates on whether the secret list, which led to the prosecution of the 'Ocampo six' at The Hague-based court should be made public has been passed by events and will not make any changes to Ruto's case.
He denied allegations that ODM leaders 'fixed' Ruto.
The ICC has already issued warning to politicians to avoid the altercations, which threaten the ongoing judicial processes on cases against Ruto and his co-accused journalist Joshua Sang after a series of prayer rallies by the Jubilee alliance leaders.
Shabbir also proposed the construction of monuments in remembrance of the 87 killed during the violence
-standardmedia.co.ke