Pope Francis rejects lavish state dinner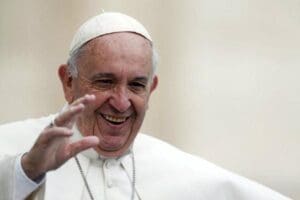 Pope Francis, a frugal Jesuit, has turned down a lavish state dinner with President Uhuru Kenyatta and instead will share a meal with the poor.
It is not clear who will dine with the Pope but it is understood he has requested a meal with ordinary Kenyans.
He will be in the country from November 25-27 on his first visit to Africa. He goes on to Uganda and the Central African Republic.
"He is keeping to his tradition of simplicity. No pomp and glamour," a Catholic priest involved in the preparations said.
It is not yet known what vehicle the Pope will use, but during his recent US visit he chose a black Fiat 500L. And the Popemobile.
Pope Francis has been seen as a reformer, a radical by some, a leader seeking to return the Church to her roots of compassion and care for the poor.
Francis has kindled a spiritual spark among not only Catholics but also other Christians, those of other faiths and even nonbelievers.
About 20,000 security agents will be deployed in Nairobi and its environs for the three-day visit to Nairobi. He will be guarded by elite forces.
Apart from GSU officers, the government deploy will regular and Administration Police officers, Kenya Wildlife Service rangers and officers of the Kenya Forest Service and National Youth Service
Kenya has about 14 million Catholics.
At least a million people are expected to arrive in Nairobi from upcountry and neighbouring countries to attend mass at the University of Nairobi.
"We expect a spill over to Uhuru Park and even the CBD where there will be giant screens for people to follow the proceedings," government spokesman Manoa Esipisu said yesterday.
"You don't expect a lot of stuff or agreements being signed. But the papal visit is followed globally so the world will be focused on Kenya before, during and after the visit," Manoa said
In keeping with his humble tastes, the Pope will not stay in a hotel but in a siple house, sources tell the Star.
"We know where he will stay but for obvious reasons we will not reveal it," Catholic secretariat Director of Communication David Omwoyo said.
The Press corps will sleep in one of Nairobi's finest hotels, the Villa Rosa Kempinski. A press centre will be set up there, at KICC and Kasarani.
Unlike President Barrack Obama's July visit when Nairobi residents fled, the Pope's visit is expected to attract visitors, posing a logistical nightmare.
"With a million people gathered between Nairobi University grounds and Uhuru Park, do you expect to go through Uhuru Highway and neighbouring roads?" Manoa asked.
He hinted the government might declare a three-day national holiday.
Pope Francis will arrive on November 25, received by President Uhuru and accorded a 21-gun salute.
He will then hold talks with the head of state before they jointly address the nation from State House Nairobi.
On his second day, Francis will meet Christian, Muslim, Hindu and traditional religious leaders before presiding over a mass at the University of Nairobi.
The Pope then will meet Catholic clergy at St Mary's school in Lavington before going to United Nations headquarters in Gigiri where he will speak about climate change.
On Friday the Pope meets slum dwellers in Kangemi, then moves to Kasarani for a meeting with 200,00 young people.
– the-star.co.ke