VIDEO/PHOTOS:Uhuru leads state officials in Mugithi dance at Kasarani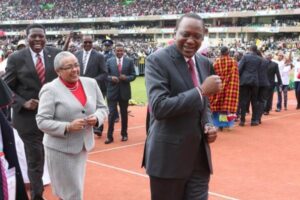 President Uhuru Kenyatta led a Mugithi jig as state officials and the public waited for Pope Francis in Kasarani on Friday.
First Lady Margaret and the other leaders joined the ring around the podium, 'busting moves' as crowds cheered.
The fun began when the master of ceremony invited bishops to dance to evangelist Joseph Wasira's 'Omundu Omulosi' song and then asked Uhuru to join in.
The dance ended when Francis arrived at Safaricom Stadium Kasarani to address youths who waved at him the Mexican way.
He was greeted with song, dance and ulutations and a performance by the Korogocho Classics Orchestra before delivering his address.
In his speech, the Pope asked Kenyans not to develop a taste for "that sugar that is corruption" even if people around them engage in the vice.
Corruption is a way of death and not life, Francis said, adding Kenya and its people are destroyed whenever bribes are accepted.
He is at his last function in Kenya with bishops at the Kasarani lounge. He will leave at 3.30pm for Uganda, the second stop of his first Africa tour that also includes the Central African Republic.
– the-star.co.ke