NKAISSERY: MANDERA WOMAN WAS AL-SHABAAB COOK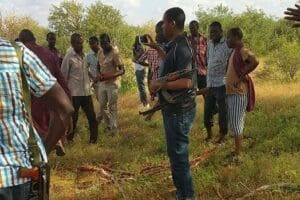 Interior Secretary Joseph Nkaissery now says the woman who was found buried in a shallow grave in Mandera was a cook for the al-Shabaab terror outfit in Bula-hawa, Somalia.
Mr Nkaissery says the woman, identified as  Ms Isnina Musa Sheikh, fled to Kenya when the al-Shabaab camp was overrun by the Kenya Defence Forces and started selling tea in Mandera.
The CS said, "We don't know what happened to her" but added that investigations were ongoing.
"We don't know whether she crossed the other side to get married…we are investigating," Mr Nkaissery told a press conference on Wednesday.
"People must account for their loved ones. Unless the government is told, the government cannot come and count people on daily basis…we have intercepted hundreds of youth trying to cross and we returned them. Anyone claiming their kin is missing should report to police and not wait for politicians," he said.
Ms Sheikh was the owner of a tea kiosk in Mandera.Her body was found by herders on Sunday.
According to police records, Mr Mohammed Abdulahi, reported on December 4 that his sister had been arrested the previous day at a place called Arabia stage at around 1pm by unknown people.
DEMAND APOLOGY
On Sunday, herders stumbled on her body at Lathe, 45km from Mandera town. Some 12 bodies were reportedly exhumed on Monday in the same area and, at the time, authorities said they suspected there would be more graves.
Inspector of Police Joseph Boinnet said no bodies were found on Tuesday as alleged. Mr Nkaissery demanded an apology from Mandera Senator Billow Kerrow and other leaders on mass grave claims.
Mr Nkaissery further fingered KTN investigative journalist Mohamed Ali as the one who "permanently" portrays national security agencies negatively. The CS said "consequences are grave" for those who will not retract mass grave claims.
On Thursday, Mr Nkaissery trashed a report by the Kenya National Commission on Human Rights (KNCHR) on mass graves in Wajir. He said, "(it's) not true and KNCHR  should correct the claims."
-nairobinews.nation.co.ke