DID RAILA GOOF TO VISIT FAMILY OF 'FORMER AL-SHABAAB COOK'?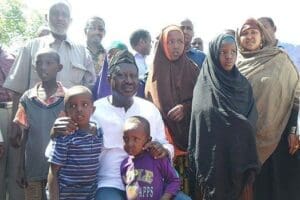 Cord Leader Raila Odinga's decision to fly to Mandera and be photographed with the family of a woman whose body was found in a shallow grave in Mandera now appears to have been ill-conceived.
It turned out hours later that the woman, 29-year-old Ms Isnina Musa Sheikh, had been a cook for the Al-Shabaab terror group who fled Bulahawa in Somalia.
"The little information we have is that… she is alleged to have been a cook for Al-Shabaab in Bulahawa and when Al-Shabaab was overrun or were routed out of Bulahawa, she ran to Kenya; she ran to Mandera and she started working in a kiosk selling tea," Interior Secretary Joseph Nkaissery explained.
MOMENTUM
The Cord leader has lately been gaining momentum, especially with the sustained anti-graft campaign. But the latest move might slam breaks on the trust.
If Mr Nkaissery's explanation is true, Mr Odinga might also be in an awkward position even with his traditional western allies, who are part of the war on Al-Shabaab.
Already, Jubilee propaganda machine has unleashed pictures on social media portraying Mr Odinga as being sympathetic to Al-Shabaab operatives living in Kenya and an opponent of the ongoing war on terrorism.
TERROR ATTACKS
He will also have to deal with doubts on whether he has any regard to the lives of hundreds of Kenyans who have died during the numerous terror attacks staged by the Somali militants.
During the Mandera trip, Mr Odinga challenged the government to tell Kenyans what caused Ms Musa's death.
"The government has to come out clear and tell us who killed and buried Mama Isnina so that her soul can rest in peace," said Mr Odinga.
The Cord leader condoled with the families who have reported their relatives missing. He urged them to first register as voters to push for better times ahead.
SNUBBED
Mr Odinga was accompanied by former deputy speaker Farah Maalim. His tour was snubbed by Mandera leaders.
Even more awkward for Mr Odinga is the fact that Mandera Senator Billow Kerrow has apologised publicly for causing alarm with his allegations of a mass grave in Mandera.
Mandera Governor Ali Roba on Wednesday warned the Cord leader against using the misfortunes of Mandera people for his political gains.
POLITICAL  GAIN
"I have just heard that Raila is coming here today and I ask him not to use our current problems for political gains because he has been in this country when we suffered, losing teachers, medical staff and the quarry killings but he never visited us."
State House director of digital Media Dennis Itumbi refrained from commenting on the matter.
"I cannot comment on the matter because the CID have started to arrest people on the matter, you should let the security apparatus in Kenya do their work," Mr Itumbi said.
Mr Odinga's handlers were unavailable for comment.
-nairobinews.nation.co.ke