Kenyan man passes away in Wichita Kansas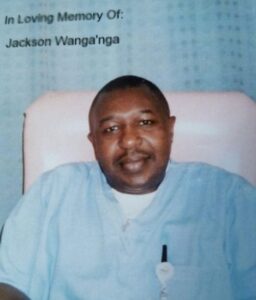 It is with deep sorrow that we regret to announce the death of Jackson Kiarie Wanganga.
There will be a fundraising on Sunday starting from 4pm at 2600 S Oliver Wichita Ks 67210 to help raise funds to send his body home.
There is also a bank of America account.. A/c number is 518007904390. The target is to raise 15,000 dollars.
If you have questions please contact the following people:
Arthur (316)2002188
Anne Owen: (316)7347418
Mwaura Karanja (316)-3505497
Cecilia Davis (316) 9928578
Ken Muregi (316)2939938
Charles Muguchia (316) 250-8119
Susan Williams(316-2074840
Please keep the family in your prayers, forward the message and may the Good Lord bless you.