Urgent Medical appeal for Dennis Muriithi Gichubi of Raleigh NC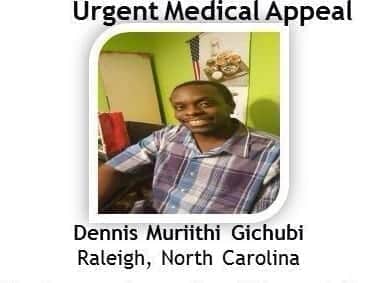 The family of Wilson & Jane Gichubi kindly requests your financial support & prayers towards meeting the cost of kidney transplant for their 30 Year old son, Dennis Muriithi, who was diagnosed with acute kidney failure in June 2015. Dennis undergoes dialysis three times a week and urgently needs a kidney transplant. Dennis has a four year old son – Jayden. The budgeted cost of the transplant is $40,000. Any kind of help – financial or through prayers is highly appreciated.
Please send your donations by using either:
GoFundMe
Muriithi Gichubi Medical Fund
https://www.gofundme.com/ggkf388k
Wells Fargo Bank
Account Name: Gichubi Medical Fund
Account #: 1752257566
PayPal Account
Name: Wilson Gichubi
Email: [email protected]
Contacts:
Chairman
Pastor Stephen Barine
+1 919-221-1521
Secretary
Dr. Robert Muraguri
+1 919-522-7737
Treasurer
Pastor George Kariuki
+1 919-720-1834
God bless you all for your love & donations.