Shabaab intelligence chief killed by Kenyan army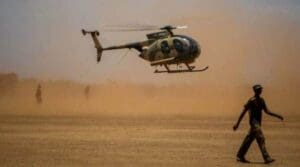 NAIROBI, Kenya, Feb 18 – Kenya's army said Thursday it had killed the intelligence chief of the Shabaab insurgents and 10 other commanders in an air strike in Somalia.
The US government had placed a $5 million bounty on the head of spy chief Mahad Karate, with Kenya celebrating what they called a "major blow" to the Islamist force.

Kenyan troops, part of an African Union force in Somalia (AMISOM) fighting the Islamist insurgents, claimed to have killed Karate, a top commander also responsible for internal security, in an air strike at a Shabaab training camp earlier this month.
"The killing… is a major blow to the terrorist group," the Kenyan army statement read.
Karate – head of the Shabaab's Amniyat unit, a special security wing responsible for intelligence, attacks and assassinations – is said to have been involved in plotting the 2015 massacre of 148 people at Garissa University in north-east Kenya.
"The Kenya Defence Forces, under AMISOM operations, would like to confirm that Mahad Mohammed Karate… and 10 other middle level commanders were killed in a major KDF strike," in southern Somalia on February 8, the statement read.
The claims could not be independently verified, and there was no immediate reaction from the Shabaab.
Karate was at a Shabaab training camp to "preside over the passing out of an estimated 80 Amniyat recruits who had completed their training, and were due for deployment to carry out more terrorist attacks," the Kenyan army said.
"It is confirmed that 42 recruits were also killed while many others sustained injuries."
Karate was placed on the US State Department's wanted terrorist list in April 2015 after the Garissa attack.
"Karate, also known as Abdirahman Mohamed Warsame, played a key role in the Amniyat, the wing of the Shabaab responsible for assassinations and the April 2, 2015 attack on Garissa University College," the US Rewards for Justice wanted notice reads.
"The Shabaab's intelligence wing is involved in the execution of suicide attacks and assassinations in Somalia, Kenya and other countries in the region, and provides logistics and support for Shabaab terrorist operations throughout the Horn of Africa."
Karate was also the deputy of former leader Ahmed Godane, killed in a US drone strike in September 2014.
-capitalfm.co.ke