Cord in turmoil as it kicks out Mong'are from influential Senate committee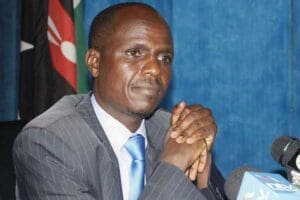 Cord has removed Nyamira Senator Kennedy Mong'are from a powerful Senate committee, a day after he was elected its chairman.
Mr Mong'are (Ford-Kenya) controversially deposed his Kakamega counterpart Boni Khalwale (UDF) from the helm of the Senate Public Accounts and Investments Committee, in a move that caught opposition leaders in the House unawares.
Despite the new development, Mr Mong'are remained defiant on Thursday, saying he was properly elected and would not relinquish the seat.
He was also backed by Kisii MPs, who on Thursday questioned his de-whipping without involving the party that sponsored him to Parliament.
Minority Whip Johnson Muthama said Mr Monga're was not among senators identified to vie for the chairmanship of the House team and that he dethroned Dr Khalwale without their blessing.
Mr Muthama de-whipped him through a letter to Senate Speaker Ekwee Ethuro that indicated that he had been dropped and replaced with nominated Senator Agnes Zani.
"This is to notify you that pursuant to the Senate Standing Order No 180 the Cord Coalition has discharged Sen Mong'are Kennedy Okong'o from the Sessional Committee on County Public Accounts and Investments Committee with immediate effect and replaced him with Senator Dr Agnes Zani," said Mr Muthama in the letter sent Wednesday evening.
The decision could split Cord, the opposition coalition, as some of its MPs say the decision did not originate from the party.
Mr Mong'are questioned the procedure used to drop him, saying it was not proper.
"I am the properly elected chairman. Members exercised their right and I won a fair election. I hear some busybodies want to remove me from the committee," he said.
A majority of members settled on Mr Mong'are following concerns that Dr Khalwale was using the committee to advance his interest in the Kakamega governorship.
Although the members had initially agreed to back Kisumu Senator Anyang' Nyong'o to replace Dr Khalwale, they backed off following similar claims that Prof Nyong'o was also interested in becoming a governor next year.
They eventually settled on Mr Mong'are, who they said would be impartial in handling the committee's affairs.
House rules give powers to the minority whip to de-whip a member through a notice to the Speaker.
When the Speaker acknowledges receiving the notice, the member is automatically dropped.
MPs from the Kisii community addressed the press in Parliament on Thursday protesting the removal of Mr Mong'are.
-nation.co.ke