VIDEO:Ruto pilot who slapped officer charged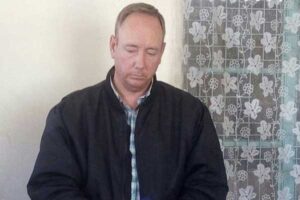 A pilot who was captured on video assaulting a police officer in Nyandarua last Sunday has been charged in a Kinangop court.
Captain Alistair Patrick Llewelyn, an Australian national, was charged with assaulting Corporal Mercy Wandera and creating a disturbance.
The magistrate ordered that he be remanded in police custody until Monday, when a ruling on his bond application will be delivered.
Mr Llewelyn was arrested Tuesday in Nairobi and driven back to Nyandarua, where the crime took place.
The pilot had flown Deputy President William Ruto to a church fundraiser in Ndunyu Njeru, and was shown reacting angrily to Ms Wandera's crowd-control skills.
As crowds surged towards the helicopter, a visibly agitated Mr Llewelyn confronted Ms Wandera, slapped her and shoved her around, accusing her of failing in her duties.
-nation.co.ke