VIDEO:Veteran Journalist Finally Meets American Daughter after 54 Years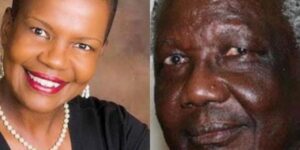 Renowned columnist Philip Ochieng' has reunited with his daughter after more than 50 years of separation.
Ochieng, who writes for the Daily Nation, last saw Juliette Akinyi Ochieng', his American daughter 54 years ago after he divorced with his first wife.
The veteran journalist travelled to the United States when he was still a youth to study and in the course of his study-trip he met Akinyi's mother.
Expressing her excitement for finally getting to meet her father, Ms Akinyi, an American author, equated her feeling to that of the US President, who also had to trace his ancestry.
"It is a great feeling. It is hard to describe it. The only person I know who could be able to describe the feeling is probably Barack Obama," she told Citizen TV.
Ochieng' divulged his relationship with the US President's father, saying that they bonded after boarding the same flight to the US.
"Barrack Sr. and I were in the same plane that Tom Mboya organized for 81 students to go to America. One of us produced her (Akinyi), the other one produced Barack Obama," he said.
The renowned columnist and his daughter were reportedly brought together by the internet, and last week Akinyi announced through her blog, that she would be coming to Kenya to meet her father for the first time.
Ms Akinyi, 54, will be spending a week with her Kenyan family after which she will fly back to Los Angeles, Carlifonia.
-kenyans.co.ke