Nyambane's ex-wife, Linda Muthama to walk down the aisle again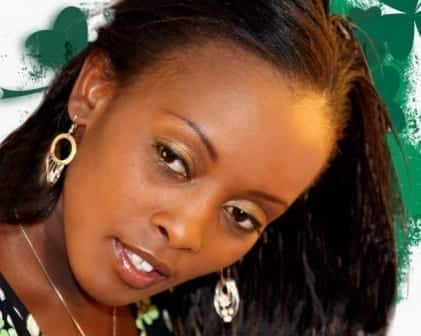 After controversially walking out of her marriage sometime back in 2014, Linda Wangeci Muthama appears to be moving on swiftly.
Reports have it that the former TPF finalist and singer is currently hooked to a foreigner and possibilities of her getting married is only a matter of time.
In an exclusive interview, Linda – who was once married as a second wife to ex-comedian cum communication strategist Walter Mong'are aka Nyambane confirmed that she would be soon tying the knot.
"I don't want to talk of anything about my former marriage or my ex-husband. In fact he doesn't like being dragged, mentioned or associated with me nowadays. But it's not going to be long for me to get married. Soon you will all see the person who will be putting a ring on it. But he is not Kenyan," she said affirmatively.
However, Linda was reluctant to reveal the identity of her fiancé, but said that he is "just from Africa and not Nigerian or South African. Nigerians have the taste but I am not into them. If I go down South, just know it's for the money."
She also added that she tried having First Lady Margaret Kenyatta attend her upcoming charity concert, but her (First Lady) busy schedule couldn't allow. The second edition of the concert called Linda Muthama Live, under Laika Foundation, was held Last year May 30, at the National Museums of Kenya in Nairobi. The proceeds were channelled towards footing bills for mothers with complicated child births.
Says Linda, "It's is all in an effort to see maternal mortality is drastically reduced in Kenya. So, I urge everybody to join me and the Laika Foundation in this noble cause."
This aside she affirms that she is happy and moving on with her life besides being destined for a bright and better future- free from the unending stress and gossips that often followed her owing to the fact that she was often viewed by many as a home wrecker.
"For the last time I want to make it clear that I did not break anybody's home. It was all about friendship that later culminated into love and the rest is history. However, that is in the past now," she says.
Born 33 years ago in Limuru, Linda says music has always been a big part of her since childhood.
"At the age of Seven I was part of the church choir alongside my sisters. We also participated in several social functions before forming an accapella group," she says.
Upon completing high school in 2001, she went through a university Preparatory Course and was chosen to not only teach the next incoming class but was also awarded a partial scholarship to Berkley college of Music in Boston, MA, USA.
She however decided to pursue a degree in music majoring in voice and piano at Kenyatta University, Kenya.
Linda has performed lead roles in more than ten musicals, including Joseph and the Amazing Technicolor Dreamcoat, Fiddler on the Roof, Lwanda Magere and many others.
It was during the time that she met her ex-husband Walter Mongare aka Nyamabane of Altimate Records current who played the role of her manager and producer. Through this outfit, she became the band leader of the Altimate Band.
Among the finalists during the Tusker Project Fame 2006, Linda who was once involved in RED KORNA, a popular Kenyan comedy show and has shared stage with some of the most respected Kenyan musicians such as Eric Wainaina.
She also performed with Jabali Afrika in Washington DC, while on tour with the Kenyan comedy group Redykyulass in the Summer of 2007. Her albums Ne Muciare released in 2007 and Imajination, in 2008 were well received.
Nyambane's ex-wife, Linda Muthama to walk down the aisle again