Kenyan women value careers more than marriage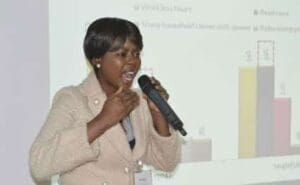 Kenyan women value financial independence and a successful career over marriage, greatly admire First Lady Margaret Kenyatta and do not love weaves and sponsors as widely believed, a new study has revealed.
When faced with a choice between marrying the man of their dreams and pursuing a career, majority of Kenyan women would choose a career over a husband.
This is according to a research by Consumer Insight that also found out that 52 per cent of Kenyan women would postpone marriage when faced with a man that demands she quits her job for marriage and 28 per cent would call off the engagement altogether.
According to the survey conducted in September last year, only 20 per cent of Kenyan women would quit employment to be with a man.
The findings released recently were generated from interviews with experts and focus group discussions with individuals and thereafter findings validated through a quantitative study via face-to-face interviews involving than 1,300 women in Nairobi, Mombasa, Kisumu, Eldoret and Nyeri.
If a prospective husband is based in a different country and they must choose between the man and a career, only 20 per cent would quit employment to settle with a man in another country.
About 41 per cent would postpone the marriage plan to consider the matter, and 20 per cent would break off the engagement because Kenyan women believe "there is no romance without financial independence".
The notion that Kenyan women have a strange penchant for 'sponsors' or sugar daddies is invalid, according to this study.
It was established that majority of Kenyan women (61 per cent) will walk away from a relationship with a sponsor, with all his wealth and ability to provide for her, especially if it means jeopardising her career.
This new 'material girl' brand on Kenyan women however does not cloud the fact that most Kenyan women- 82 per cent-believe in marriage. In fact, four out of five Kenyan women believe in the marriage institution.
Their belief in career progression and breaking glass ceiling aside, Kenyan women are still not earning much at their workplaces, as this study discovered. Three out of four Kenyan women earn less than Sh30,000 net monthly from their businesses, which means that the man is still the sole provider, at least in 84 per cent of the cases studied.
So Kenyan women complement their income through side businesses, merry go rounds and saccos which have become the common go-to places in cases of family emergencies.
SPEND HER MONEY
The study notes that Kenyan women are very conscious about their health, with most of them investing a lot of time, energy and money on health-conscious decisions such as healthy food.
So how does a typical Kenyan woman spend her money? A Kenyan woman will spend a significant amount of her income on beauty and personal care. Of course this after paying rent, buying food and groceries. Another thing that Kenyan women spend a significant amount of their money on is paying tithe and offering in church.
Size matters to the Kenyan woman, especially when referring to their weight, as 90 per cent of Kenyan women interviewed say that weight watching is of extreme importance. However, only 27 per cent of Kenyan women are willing to commit to a regular exercise regime, with most preferring to watch their weight through diet.
Looking good at an affordable price is important to Kenyan women who shop for clothes and shoes at least once a month. They are staunch believers of mitumba or 'camera' clothes – the selected second hand clothes, and their favourite shopping places include open air markets.
Women who mostly run businesses, don't fully utilise social media to sell their goods and services, only 7 per cent of women utilise social media for this purpose.
Also, very few women shop for clothes online or use social networks to source for clothes and shoes (8 per cent).
Contrary to popular belief that Kenyan women love their bouncy, expensive weaves, this study found that only 17 per cent of Kenyan women swear by weaves.
The wave of #TeamNatural has taken over Kenyan women as now majority- 35 per cent- prefer braids, and 14 per cent keep natural hair.
According to Kenyan women, braids look good, have less hustle in their morning routines and are very affordable.
First Lady strikes a chord with Kenyan women (16 per cent), beating personalities like Nelson Mandela (15 per cent) and Wangari Mathai (14 per cent). Other admired personalities include Barack Obama who is trailed by Raila Odinga at 11 per cent and President Uhuru Kenyatta at 9 per cent.
When it comes to sexuality, the study reveals that many Kenyan women had their sexual debut before the legal age of 18 years. One in two women use contraception, with the most popular contraception being injections for women aged 34 years and above and pills and condoms for women in the 18-25 age group.
Abortion is a sensitive topic for Kenya women, most of whom are pro-life. About 59 per cent of women believe that a woman should be allowed to abort only in special circumstances and 31 per cent believe that women should never be allowed to abort.
Only 10 per cent of women believe that a woman should be set free to decide whether to keep or abort a pregnancy.
By NJOKI CHEGE
-nation.co.ke