PEV victims threaten to camp at Raila, Kalonzo,Wetangula residences over anti-IEBC protests
PEV victims threaten to camp at Raila, Kalonzo,Wetangula residences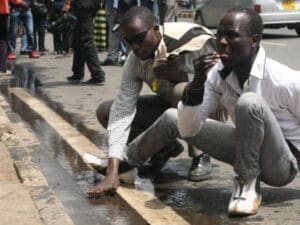 A section of the 2007-08 post-election violence victims on Friday issued a 7-day ultimatum to Cord leaders to stop street demonstrations pressing for IEBC commissioners to quit.
Failure to which, the victims vowed to camp at the homes of the coalition principals Raila Odinga, Kalonzo Musyoka, and Moses Wetangula.
The group said that similar demonstrations in 2007 led to chaos and loss of lives.
Under the umbrella body of Peace Ambassadors Network, the IDPs said they will mobilise their colleagues and camp at the Cord leader's homes.
They said that the constitution was clear on how the current IEBC commissioners should be ejected from office, and that streets protests was not one of them.
Addressing the press in Naivasha, the group coordinator Esther Namulanda said that the current strategy by Cord was the one used in 2007 leading to chaos.
"We inform the Cord leadership that we will exercise our rights to protest and we shall mobilize our colleagues and picket outside the homes of Raila, Kalonzo and Wetangula," she said.
Namulanda noted that in the process over 1,300 Kenyans lost their lives while another 600,000 were displaced.
"We are asking the politicians, whom we pay a lot of money, to deal with their issues in parliament and not in the streets," she said.
"We need a vibrant opposition in the country but as the victims of the 2007 violence, we are living in fear as similar demonstrations led to our suffering," Namulanda said.
PEV victims threaten to camp at Raila, Kalonzo,Wetangula residences