William Ruto wants to work with Governor Isaac Ruto
William Ruto wants to work with Governor Isaac Ruto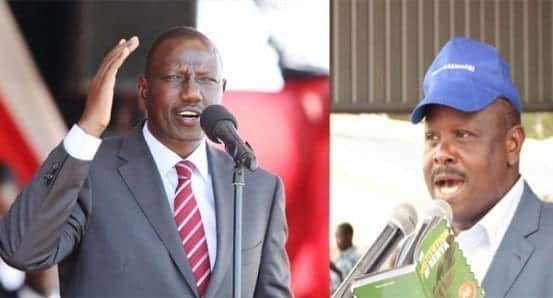 Deputy President William Ruto has reached out to Bomet Governor Isaac Ruto, his former bosom friend turned political foe in Rift Valley.
The DP also asked leaders from Bomet led by National Assembly Deputy Speaker Joyce Laboso, Senator Wilfred Lessan and local MPs to sit down, iron out their political differences and join hands in rolling out development projects in the county.
The DP came face to face with the governor after eight months of public spat. "My dear friend and brother – Isaac – let us talk and work together. The differences which we have encountered are unnecessary. Let us bring the people together," Ruto said, adding: "We have a duty to unite the people and focus on initiating development projects instead of cleaning our dirty linen in public."
Governor Ruto told the DP he was not opposed to his leadership and was ready to work with him for the sake of development. "At no time have I said I am not ready to work with you. It's only that I always speak my mind and champions the rights of people at the grassroots," said the governor.
William Ruto wants to work with Governor Isaac Ruto