Ambassador Githae to launch home ownership programme for Kenyans in US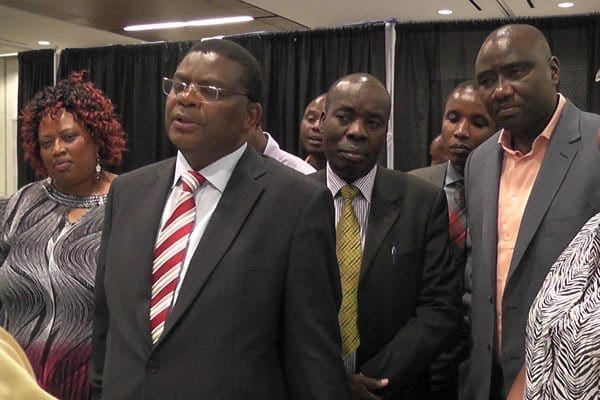 Kenya's ambassador to the US is set to launch the 'Zero' down payment initiative for Kenyans living in the United States to buy homes.
Mr Robinson Njeru Githae is, for the second time, scheduled to launch the initiative — for the second time — at the Hilton Hotel, Newark Airport on September 3 and will run to September 5.
The initiative is being fronted by Kingspride Properties, whose business development director Domonic Karau said on Saturday that it aims at not only giving Kenyans in the Diaspora opportunity to interact with real estate experts from Kenya but to also to enlighten them about existing opportunities in the Kenyan market.
Mr Karau said since its launch three years ago, the Zero down payment mode — initially developed for middle income Kenyans who desired to own a home but who were hampered by the prohibitive down payment requirements — has become very popular with the Diaspora.
"The Diaspora has completely embraced this program and now constitute a large section of our clientele. In fact, because of this, we have set a side another project strictly for the Diaspora called Brisbane Heights that we are set to launch during this upcoming exhibition," Mr Karau said adding.
"This is of course on top of the almost sold out Glenwood Gardens that we launched here in New Jersey in 2014," he added.
The Zero down payment mode is a system where one purchases a home by paying a fixed monthly installment throughout the construction period without the required regular 20 per cent down.
According to Mr Karau, this programme is available for projects that are still at off-plan level (construction not started) but the full payments kicks in after completion of the project.
He says one of the reasons why the program is popular among the Diaspora is the fact that one is not subjected to endless credit checks and the requirement that one makes available the 20pc or so upfront.
"Many of our clients in the Diaspora like our programme because it is hassle free in the sense that it puts you on the path to home-ownership without having to put in large sums of money," said Mr Karau.
He said during the exhibition, Kingspride will show the progress of Gleenwood Gardens, a Kenyan Diaspora baby since the sales of the project were launched during the Diaspora Expo event in 2014 and most units are therefore owned by Kenyans living in the US.
"Similarly, sales for Brisbane Heights, an exciting 2 and 3-bedroom upcoming project located on Kiambu Road will be launched this year during the event. The event attendees will get an opportunity to buy houses at an initial off-plan price which tends to be lower than any other time during project period," he added.
-nation.co.ke