Former president Mwai Kibaki released from hospital after surgery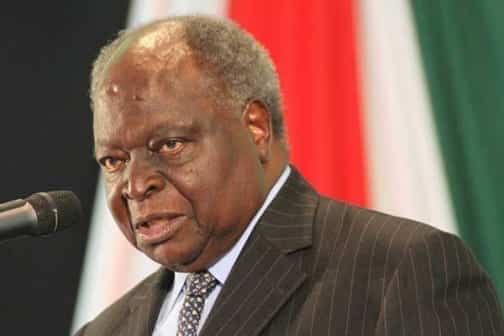 JOHANNESBURG: Former President Mwai Kibaki has been discharged from the South African hospital where he had surgery last week.
Mr Kibaki left Netcare Sunninghill Hospital in Johannesburg where he has been admitted for 10 days.
The retired President went through a successful operation to remove a blood clot from one of the arteries in his neck. However, he will not return home immediately as his doctors have advised bed rest before flying back to Kenya.
Kibaki, who had the procedure last Thursday, also had a medical review on Monday when the doctors gave him a clean bill of health, a family source said.
The source in South Africa said Kibaki would stay in an apartment in Johannesburg with members of his family before returning home at the weekend.
"Mzee is likely to be home by Sunday. Arrangements have begun to fly him home after he is fully recovered. He is in very high spirits and the family is happy with his progress," the source said.
In an email sent to our newsroom later, the family said that the former President was in high spirits following the successful treatment.
"We expect him to return soon and Kenyans will be informed of his progress as appropriate. We ask Kenyans to pray for him and to respect the family's privacy at this difficult time," the statement read in part.
Kibaki was taken ill on the night of August 20 and rushed to Karen Hospital before being flown to South Africa the next day.
He was accompanied by cardiologist Josiah Ruturi, his personal physician Dan Gikonyo and his youngest son Anthony Githinji. His daughter, Judy Wanjiku, joined them later.
FAMILY MEMBERS
When he was first admitted in the hospital, no one apart from close family members and doctors accompanying him were allowed in his ward.
"Apart from close family members, a few friends and other relatives have been able to have a conversation with mzee at the hospital. He is very jovial and upbeat," a source told The Standard last week.
The source revealed that last week's surgery was the former President's second one to remove a clot in one of his veins since he was involved in road crash in 2002.
Netcare Sunninghill Hospital is one of the most prestigious specialist heart facilities in South Africa.
The hospital is described as a top cardiology facility in Johannesburg and boasts the best medical teams.