FACEBOOK FOUNDER SAMPLES UGALI AND TILAPIA IN NAIROBI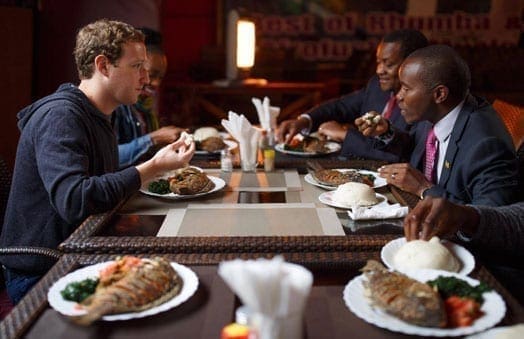 Facebook founder Mark Zuckerberg enjoys a meal of ugali and fish with ICT Cabinet Secretary, Joe Mucheru, after he arrived in Nairobi. PHOTO | COURTESY
Founder of Facebook Mark Zuckerberg who is on a visit of sub-Saharan Africa arrived in Nairobi on Thursday and met with entrepreneurs and developers.
Zuckerberg visited the iHub, an Innovation hub and hacker space for the technology community in Nairobi, where and later he met with local engineers to learn more on mobile money.
"Just landed in Nairobi! I'm here to meet with entrepreneurs and developers, and to learn about mobile money – where Kenya is the world leader," Zuckerberg said on his Facebook page.
"I'm starting at a place called iHub, where entrepreneurs can build and prototype their ideas. Two of the engineers I met — Fausto and Mark — designed a system to help people use mobile payments to buy small amounts of cooking gas, which is a lot safer and better for the environment than charcoal or kerosene. It's inspiring to see how engineers here are using mobile money to build businesses and help their community."
Dressed in casual outfit, the young billionaire was later photographed together with ICT Cabinet Secretary, Joe Mucheru, sampling a Kenyan meal of ugali and freshly cooked tilapia for the first time at the popular Mama Oliech restaurant.
Zuckerberg's Africa visit started on August 30 in Nigeria.
-nairobinews.nation.co.ke