Oliech Reveals How Mark Zuckerberg Helped His Mother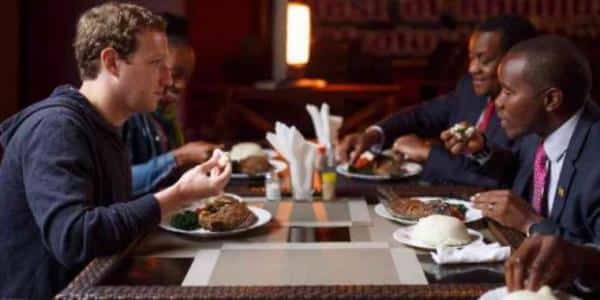 The management of Mama Oliech Restaurant on Monday revealed that business had boomed after they hosted Facebook CEO Mark Zuckerberg during his recent surprise visit to Kenya.
According to the restaurant manager, Kevin Oliech – brother to renowned Kenyan footballer Denis Oliech – after Zuckerberg had Ugali and Tilapia at the hotel, sales at the local joint have scaled up by 35 percent.
He also revealed that more customers have been visiting the joint while tourists from abroad have been asking for the hotel's exact location so that they would visit once they come to Kenya.
The Manager, who has since replaced the business' Facebook profile picture with that of Zuckerberg having lunch, said that the number of followers on Facebook had also doubled.
Speaking to the Kenya News Agency, the young Oliech disclosed that Kenyans have not been left behind as they are flocking the local joint asking to dine at the exact table used by Zuckerberg.
Zuckerberg popularised the restaurant and the dish through his Facebook account which has over 70 Million followers.
The 32-year old entrepreneur and philanthropist posted: "I had lunch in Nairobi with Joseph Mucheru, the Kenyan Cabinet Secretary for Information and Communications. We talked about internet access and his ambitious plans for connecting everyone in Kenya".
He added: "We ate at MAMA Oliech Restaurant. — a local place everyone recommended. One of my favourite parts of travelling to a new country is trying the food. I enjoyed ugali and a whole fried tilapia for the first time and loved them both."
The Facebook CEO made a surprise visit to Kenya on September 1 to learn about mobile money and meet entrepreneurs and developers.