Jubilee Politician Stanley Livondo Attacked by Angry Congolese Men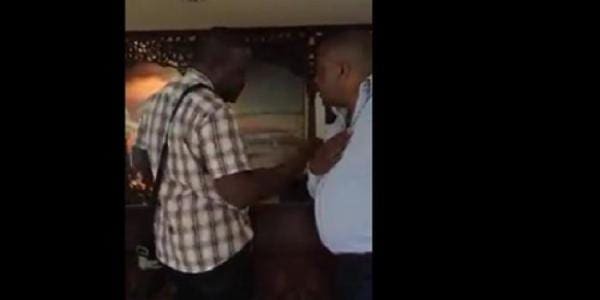 Even before the dust settles on the video where former National Assembly deputy speaker Farah Maalim was captured exchanging heavy blows with a Somali government official, another recording has emerged of a Jubilee affiliated politician nearly getting into a physical fight at a posh hotel.
In the video, flamboyant politician Stanley Livondo and two West-African men are captured in a heated confrontation that nearly flares out into a physical duel.
One of the Congolese men charges at the former parliamentary aspirant threatening to pounce on him. Livondo, however, maintains his cool even as the second West-African national joins the exchange.
One of the foreigners is heard lashing out at Livondo before personnel at the hotel intervene and escort him away. As the two men leave, Livondo, who is eyeing the Kakamega senatorial seat on a Jubilee party ticket, is heard claiming that the two foreigners are thugs.
Unconfirmed reports indicate that the altercation was prompted by a business deal gone sour.
Best-known for his flashy lifestyle, Livondo hit headlines in 2007 when he splashed money to his supporters while aboard a chopper – a stunt that earned him the nickname 'Mr Money Bags'.
Jubilee Politician Stanley Livondo Attacked by Angry Congolese Men