Disturbing video of armed thugs robbing an M-Pesa shop in Uthiru

A video has surfaced of armed thugs robbing an M-Pesa shop in Uthiru, Nairobi
– The thugs pretend to be customers only to bounce on the owner of the shop
– They later shoot at residents as they escape with money and other valuables
A very disturbing video has surfaced showing armed robbers attacking an M-Pesa agent in Uthiru, Nairobi and stealing cash and other valuables.
The video captured on CCTV cameras in the shop shows two men walk in pretending to be customers before accosting the owner identified as James Masibo.
The incident happened Friday, March 17.
One of the thugs gets straight into Masibo's office as another keeps vigil.
A lady who works at the shop arrives but she is accosted at gunpoint and forced to open an electronic door that had shut as the other thug battled with Masibo.
Then an unsuspecting customer, later identified as a university student, walks in to do some transaction but he is pushed to a corner with the lady and are ordered to produce their phones.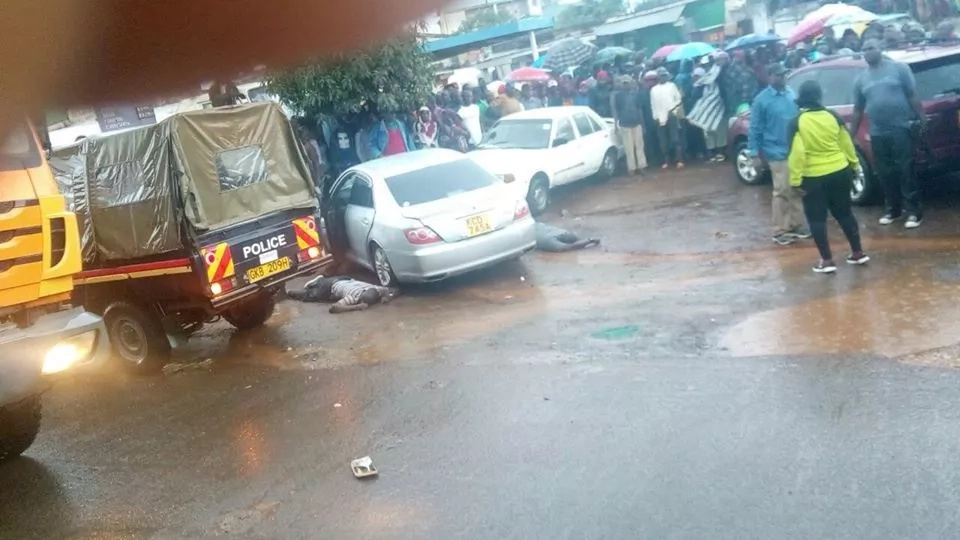 As the thug keeps vigil, the students escapes and the thug fires at him. Luckily, the bullet misses him.
In the office, Masibo is ordered to lie down and the thug gets a bundle of KSh 100,000 which he puts in a paper bag and quickly gets out.
A crowd starts to build outside but the thugs quickly get out and start shooting. The crowd scampers, leaving the thugs to escape.
Unfortunately a stray bullet hits a woman. She is admitted. Police have launched a man-hunt for the thugs whose faces were captured by the cameras.
Source link-tuko.co.ke