Raila, Mudavadi and Other Politicians Who Were Humiliated by Their Stepbrothers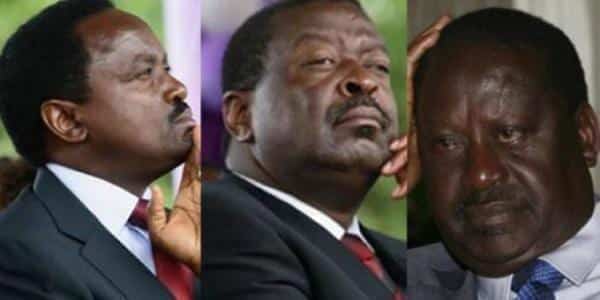 The trend of siblings or, otherwise, members of the same family plunging themselves into political waters is quite a common scenario in the Kenyan political field.
Around the world, political families are subjected to close scrutiny and when internal differences emerge – they are bound to attract publicity.
In some instances, rival politicians will use such differences to serve their political interests while in other cases, it is the media that stokes up such fires.
Recently, Kenya's most prominent son Barack Obama was cast in bad light after his step-brother Malik Obama criticised the US President's policy decisions before endorsing Donald Trump – President Obama's rival.
Kenyans.co.ke compiled a list of top politicians, who like Obama, have faced the harsh reality of sibling rivalry.
On some occasions, these political bigwigs have been put to shame by their kin – most of whom are less-known in the political scene.
1. Raila Odinga
Opposition leader Raila Odinga tops the list of political heavyweights who have suffered backstabbing by their younger siblings.
Raila's step brother Omondi Odinga has closely aligned himself with President Uhuru Kenyatta and his deputy William Ruto.
In the run-up to the 2013 election Omondi sparked a political storm when he invited Kenyatta and Ruto to the Odingas rural home in Bondo.
He went against the family and actively campaigned for the Jubilee government.
His pro-UhuRuto efforts are what perhaps landed him a State House job.
Omondi is son to Susan, fourth and last wife to Kenya's first Vice-President, the late Jaramogi Oginga Odinga.
2. Musalia Mudavadi
In 2002, then Vice President Musalia Mudavadi was subjected to utter humiliation by his stepbrother Kegode Mudavadi.
Kegode defected from Kanu and joined his brother's rival Simeon Nyachae who was a presidential candidate.
Political pundits during those days, billed Kegode's defection as a high profile matter.
The young Mudavadi went ahead to contest for the Sabatia seat – the same position his elder brother Musalia was contesting.
As a result of splitting the votes, the two Mudavadi brothers lost to little known Reverend Moses Akaranga – who is now the Vihiga Governor.
It was a humiliating moment for the then VP who was seeking to rally the western Kenya voting bloc behind Kanu presidential candidate Uhuru Kenyatta.
Water Cabinet Secretary Eugene Wamalwa faced it rough in 2003 during a by-election occasioned by the demise of his elder brother and Vice-President Michael Kijana Wamalwa.
Eugene Wamalwa, who was seeking to supersede his brother as the Saboti MP, faced stiff opposition from his little-known stepbrother Robert Wamalwa.
An ugly show of sibling rivalry played out when four Wamalwas joined in the Narc Party nominations for the Saboti Parliamentary seat.
They shared the spoils during the Narc party nominations with Davies Nakitare emerging winner.
A disappointed Eugene immediately defected to little-known Republican Party, but flopped after failing to secure his brothers' support.
Wiper Party leader Kalonzo has also had his fair share of troubles occasioned by his stepbrothers seeking to ride on his fame.
Fortunately for Kalonzo the dirty linen has not gotten to be washed in public since none of his half-brothers has expressed political interest.
In January 2014, it was all gloom when one of Kalonzo's stepbrothers hit headlines after he was hit with a bottle by the father of a girl he had a love affair with.
According to reports, 38-year old James Nzilu Musyoka bled to death after suffering a stab wound in the neck. The incident is said to have happened at the suspect's home in Ngalange village, Kitui County.