Why Kirinyaga Governor Ndathi did not vote for himself in Jubilee Primaries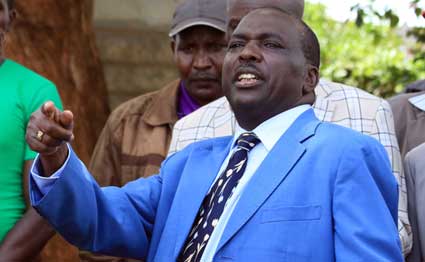 In an interesting turn of events, Kirinyaga Governor Joseph Ndathi has revealed that he didn't manage to vote for himself in the ongoing party primaries.
Addressing journalists on Tuesday April 25, hours after the Kirinyaga County Jubilee Party nominations were conducted, the governor expressed his frustrations with the entire process even as results trickling in showed him trailing a far third in the hotly contested party polls.
The governor missed out on a chance to vote in the exercise after angry voters set on fire ballot papers supplied by the party to Rukenya Primary School polling station in Gichugu Constituency, citing insufficiency.
As a result, all registered voters at the polling station were denied an opportunity to nominate their preferred candidates since no additional polling materials were supplied after the presiding officer was chased away.
"I never participated in the exercise yet I was a candidate," lamented governor Ndathi.
Ndathi claims the Monday April 25, exercise was marred by "massive rigging" with his agents being thrown out of various polling stations as voting in some stations continued after 6pm.
"In Kutus Primary School, for instance, voting was actually starting at 6pm. Our people were highly harassed, being thrown out of certain polling stations," he claimed.
The governor says they had demanded a repeat exercise at the polling station, but that did not happen. He has since urged the party to order for fresh nominations in the county, arguing that there was still time to do so after a Malindi court extended the deadline to May 1.
"Ballot papers that were used were literally photocopies, they had no serial numbers. The entire voting system was under the control of one family, Jubilee Party had no control. If Jubilee deems fit to listen to our cries they can order for a repeat exercise," Ndathi said.
By the time of going to press at 1635hrs, former Devolution Cabinet Secretary was leading with 47,846 votes, followed by Gitari Gachoki (38,353) and the incumbent governor Ndathi a distant third with 9,645 votes.
Nomination Confusion
Party primaries have been marred by confusion across the country, resulting in postponements, protests and several cases of unrest.
Various parties were forced to cancel and push forward the exercise – this raising concern about whether parties would be able to meet the April 27 deadline.
Lobby group Angaza Empowerment Network, through the law firm Mbugua, Atudo and Macharia advocates, filed a petition to extend the deadline, arguing that according to the constitution, party nominations are to be conducted at least 90 days to the election, putting the date of the deadline at May 7, 2017.
"The reduction of the statutory period granted to political parties to plan and conduct party nominations by a whooping ten days is a violation and limitation of the provision of Article 83 (3) of the Constitution that is neither reasonable nor justifiable,"  said Mr Miringu in an affidavit filed at The High Court in Malindi.
Following this suit, the court extended the party primary deadline to May 1st 2017.
Source link-citizentv.co.ke