Ruto fights bid to reveal his wealth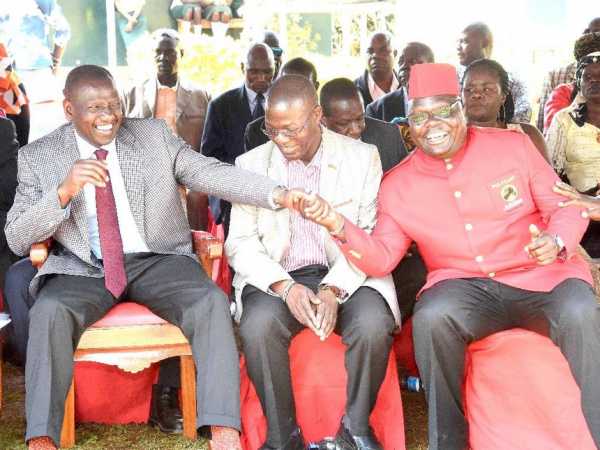 In an explosive legal duel, Deputy President William Ruto yesterday asked a court to block activist Boniface Mwangi from accessing his wealth records.
The DP will also take the stand to defend his reputation in a defamation suit he filed against Mwangi. He will be the sole witness.
The case is shaping up as a test of the DP's character, influence and political might — as well as of Mwangi's integrity.
The activist has asked the Kenya Revenue Authority and the Independent Electoral and Boundaries Commission for Ruto's tax returns and wealth declaration forms.
Ruto has sued Mwangi for defamation for linking him in a tweet with the murder of whistle-blower businessman Jacob Juma, assassinated on May 5.
Mwangi has counter-punched, saying he can substantiate his claims and needs the DP's records to do so.
In 54 pages of suit papers filed by Ruto's lawyers yesterday and Monday evening, the DP said Mwangi was determined to continue tarnishing his name.
Ruto is listed by his lawyer Kioko Kilukumi as the sole witness to testify.
In a replying affidavit to Mwangi's response, Kilukumi wants the court to gag Mwangi and his lawyer Gitobu Imanyara from further publishing "defamatory" content against the DP.
Ruto wants Mwangi ordered to retract, delete and apologise publicly and on social media for the "offending" tweet and to meet all legal costs.
This comes a day after Mwangi's lawyer requested information from the taxman on the DP's tax filings and wealth declaration returns for his time in office.
Imanyara told KRA the information is needed by November 1 to aid in defence in the defamation cases that has generated immense public debate.
On September 30, Kilukumi sought Mwangi's unconditional admission of liability for libel following his "libelous" tweet on September 28.
The tweet: "I hope the Deputy President has no plans of killing me the way he killed his old friend, Jacob Juma a fellow thief who became a whistle blower."
Ruto's lawyer said it was false, malicious and aimed to permanently damage the DP's reputation.
He said he was forced to file suit when the Mwangi through his advocate published further "defamatory" material.
Mwangi was given seven day's notice to withdraw the tweet or face legal action. But before the noticed lapsed on October 5, Mwangi through his lawyer said he will not retract or apologise. Imanyara said the DP has no reputation worth protecting and that Mwangi had only expressed his fears.
According to Ruto's witness statement filed at the High Court in Milimani, immediately after Mwangi's initial tweet he started receiving calls from colleagues in government, friends and family members expressing surprise and bewilderment over the reference and his alleged involvement in Juma's murder.
"I was extremely embarrassed and at great pains to explain to my close friends and associates that the contents of the tweet posted by the defendant were a pack of lies and falsehoods and that indeed I had absolutely no involvement whatsoever in the killing of Jacob Juma," Ruto said. His close friends and family have been hurt and "anguished" by the accusations.
Ruto terms defamatory Imanyara words, "…William Ruto is a prime suspect in the ongoing investigation into the death of Jacob Juma….Our client has very real and compelling reasons for fearing that your client wish[es] to kill him… he harbors these well-founded fears that your client may want to silence him by having [him] killed…"
Imanyara had written the letter in response to Kilukumi's demand letter.
Ruto said the words meant that he was a murderer with no regard for human life, he killed Jacob Juma, he is a thief, a person of questionable integrity, corrupt, a land grabber and as a national leader he cannot be trusted with public property as well he was intending or planning to kill the defendant.
"I have been gravely injured in my reputation, character, and credit and lowered in the estimation of right-thinking persons generally. My name has been brought into public scandal, odium, ridicule, contempt. I have been hurt in my feelings and thus suffered considerable embarrassment and distress," Ruto said.
Unless the defendant is restrained,he will continue to tweet or post on social media or make similar allegations about him, thereby irretrievably ruining his reputation, Ruto says.
Ruto and his lawyer have submitted as intended evidence 21 pages of tweet interaction of the alleged defamatory words, their demand letter and the response from Mwangi's lawyer. They have also submitted the press release from the Police IG about Juma's death.
Ruto says Mwangi failed to pay due regard to the fact that Juma's death is under investigations and IG has appealed for information regarding the murder.
He faults Mwangi for failing to pay due regard to his reputation as "a person of high moral standing" who would never take the life of another human being and who is an elected national leader entrusted with the position of DP.
In his statement, the DP says Mwangi failed to use proper procedure to lodge a complaint against him with the police and to have the matter investigated and charges preferred if there is evidence to prosecute.
-the-star.co.ke