Raila gives Uhuru nine-day ultimatum on election laws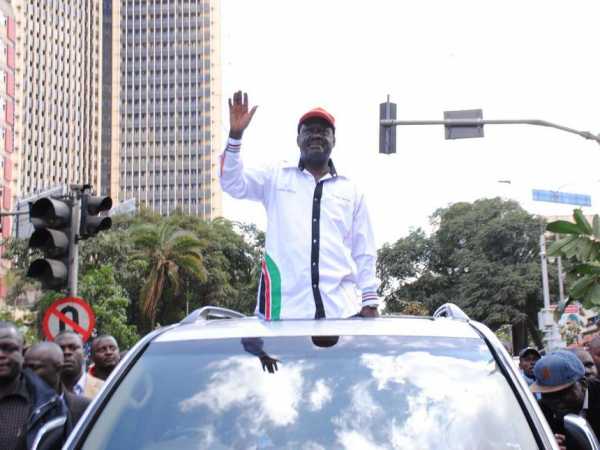 Cord leader Raila Odinga has given the government a nine-day ultimatum to reverse the amended election laws before planned mass demonstrations.
Raila said their protests will take place from January 4 as announced should President Uhuru Kenyatta not reject the laws.
But he said there was room for negotiation should Uhuru's Jubilee government agree to chart the way forward cooperatively, not single-handedly.
"We decided to allow our people to celebrate Christmas peacefully even after Jubilee provoked us by reversing the election laws we negotiated jointly," said the opposition chief.
He asked supporters to maintain peace despite the challenges they are facing.
Raila condemned Jubilee for what he termed "instigating violence" ahead of 2017 general election, but said he was confident Jubilee would settle for amicable solutions, not actions that will leave Kenyans dead, as has been the case in the past.
The Cord leader asked the Senate to consider reversing the new contentious laws during its meeting next Wednesday to prevent confrontation between the two coalitions, should they fail to come to an agreement.
The Senate is expected to reconvene for a special sitting to debate and either pass or reject amendments to Electoral Laws (Amendment) Act, 2016.
Jubilee enjoys majority status in the Senate and is therefore likely to carry the day as it happened in the National Assembly on Thursday.
"I want to assure the Jubilee government that if all those avenues are not [successful] then we will hit the road come January 4," said Raila
He spoke at St Peter's ACK church in Bondo where he attended a Christmas service on Sunday.
Raila underlined that the opposition only resorts to demonstrations when the government gives a deaf ear to critical issues such as laws guiding elections.
He also noted that this "last resort" was only aimed at ensuring a credible poll, transparency and accountability come the August 8, 2017 poll date.
The opposition boss said a level playground can only be reached with the kind of laws that both sides of the political divide negotiated.
Several parties have asked Uhuru to reject the laws for the sake of peace.
Religious leaders said the President should rise above partisan interests, and condemned the hurried manner in which amendments to election laws were crafted and passed by one side of the political divide.
The move by Jubilee raised political mistrust, they said, and added that the signing of the changes into law would be a recipe for violence.
The Kenya National Commission on Human Rights said the resulting political stand off is dangerous as the country prepares for next year's general election.
"The Commission is concerned about unfolding events," KNCHR vice chairman George Morara said on Saturday.
"We urged President Uhuru Kenyatta to immediately call for dialogue involving all stakeholders with a view to building consensus on disputed issues."
-the-star.co.ke