Raila Odinga reveals ODM's strategy for voter listing in Nairobi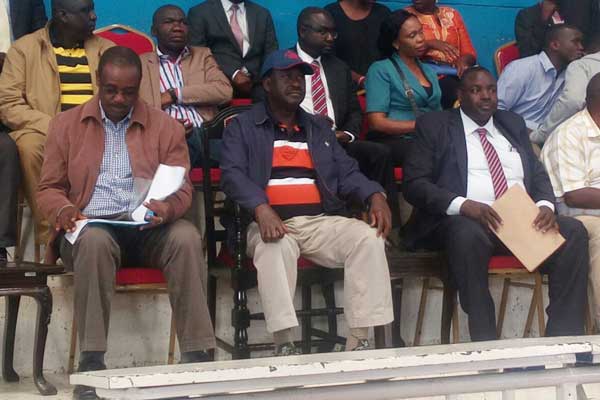 Cord leader Raila Odinga has asked Orange Democratic Movement (ODM) aspirants in Nairobi to be smart in their strategy if they want to outdo Jubilee in capital.
Mr Odinga urged the aspirants not to blindly mobilise their supporters but map out the party's strongholds in the city.
He said there are "safe seats" in the city where the opposition party is assured of winning and urged supporters to register in large numbers in those areas.
"There are some areas like Roysambu, Starehe and Kasarani. We cannot win seats there. So we need to be smart. Instead of taking people to register as voters there, take them to swing areas like Makadara," he said.
The ODM leader told his supporters to register in large numbers in areas where they are assured of clinching seats.
Mr Odinga made the remarks Tuesday when he addressed ODM aspirants in Nairobi County.
He reiterated that the current voter registration will determine the presidential winner in the August elections.
He said they need to plan wisely in order to clinch other seats, saying the party has many supporters in Nairobi.
Meanwhile, turnout was poor on the second say of voter registration in Kisii, Nyamira and Migori counties.
Independent Electoral and Boundaries Commission (IEBC) officials in the region said they were targeting 198,000 in Kisii County, 110,000 in Nyamira and 125,000 in Migori.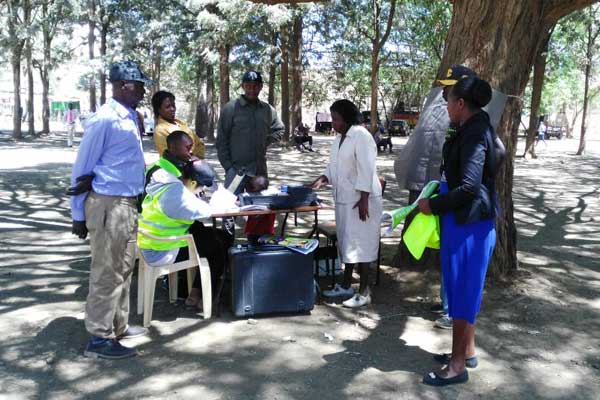 Residents register as voters under a tree at Central Park in Nanyuki as the listing campaign entered the second day on January 17, 2017. PHOTO | JOSEPH KANYI | NATION MEDIA GROUP
A spot check by the Nation in Kisii found only a small number people seeking to register at designated centres.
At Jogoo Primary School in the town, a handful of potential voters turned up on Tuesday morning.
South Nyanza IEBC Coordinator Sarah Ogaro said they had enough registration kits.
"So far each ward has five BVR kits which will help in the exercise. Every kit will be manned by two clerks," she said.
In Nyamira, each ward in the four constituencies was issued with five registration kits.
West Mugirango Constituency Elections Coordinator Denis Omare said the kits will be at one registration centre for three days before moving to the next.
He said he targeted more than 31,000 new voters in the constituency. So far, the constituency has 63,000 registered voters.
Kitutu Masaba Elections Coordinator John Charana said the constituency had 30 BVR kits and was aiming to register more than 39,000 new voters.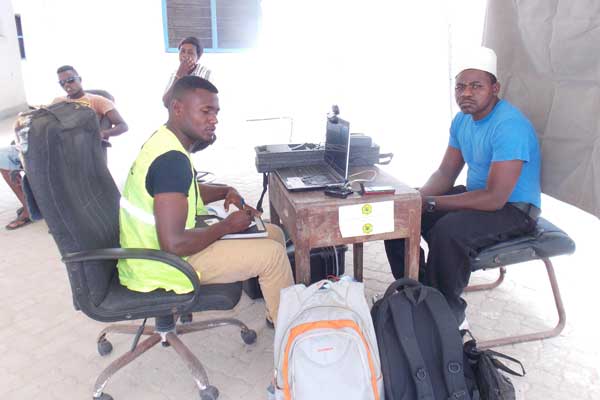 IEBC clerk Khatim Shekuwe registering a voter at the Lamu County Hall on January 17, 2017. PHOTO | KALUME KAZUNGU | NATION MEDIA GROUP
In North Mugirango constituency, Elections Coordinator Leonard Okemwa said the exercise, which targets 20,677 new voters, kicked off well at 73 registration centres.
In Migori, few people turned up at the registration centres in the eight sub-counties leaving IEBC clerks idling and reading newspapers.
But Suna East IEBC Coordinator John Jobando said they expected the turnout to improve by next week.
"Both elected and aspiring politicians should mobilise their supporters to get enlisted in the voters roll. Nobody should be left out of this important exercise," he added.
In Kuria, the registration campaign started slowly, although most centres opened as early as 6am.
"People started coming in at around 10am when we reported here at 6am. The turnout is slow. As of 1pm (on Monday) we had served only five people," said Paul Weitacho, a registration clerk at Kegonga market in Kuria East on Monday.
The same situation was reported at centres such as Ntimaru, Kwiriba, Koromangucha and Kehancha.
In Wajir, the registration failed to kick off after seven BVR kits stalled.
Voter registration is yet to kick off in Ademasajida ward in Wajir County after all the seven BVR kits failed.
Mukhtar Abdi Adan, an IEBC clerk, said the kits could not work since batteries and the solar power system malfunctioned.
Mr Muktar said only one kit started working at around 3pm.
"Most voters prefer to register in the morning due to high temperatures in the afternoon," the clerk said.
The ward has 14 polling stations and had 3,072 registered voters in the last general elections.
In Embu, Senator Lenny Kivuti has formed a team to go around the county to mobilize young people to register as voters.
He said he intended to ensure that more than 175,000 voters register by the end of the exercise on February 14.
Speaking during the opening of the Embu Jubilee Party offices, Mr Kivuti along with the Jubilee interim officials, vowed to mount a vigorous campaign to re-elect President Uhuru Kenyatta and Deputy President William Ruto.
He also volunteered his vehicles to be used by IEBC officials to ensure the BVR machines are distributed to all corners of the county.
Lamu County continued to record a low turnout.
The Nation established that by Tuesday, no single person had appeared to register at centres in Basuba and Kiunga Divisions of Lamu East Sub-County.
Speaking to the Nation on Tuesday, North Coast Regional Elections Coordinator Amina Hussein Soud said only 12 people had been registered as voters in the entire Lamu East Sub-County by Tuesday.
-nation.co.ke