I made Duale MP, he was a nobody when I picked him, Raila tells Garissa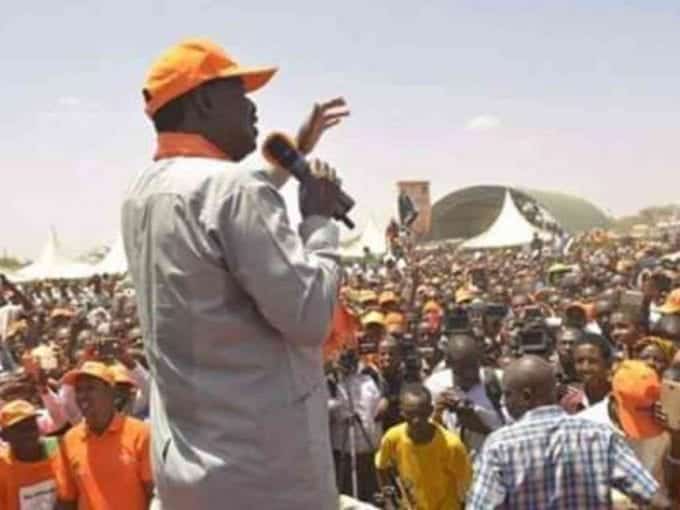 Raila Odinga has said he groomed Aden Duale for politics yet the Garissa Town MP has turned his back on him for Jubilee.
The Cord leader said he picked the National Assembly Majority leader from Mombasa in 2007, when he was a "nobody".
"I personally picked up Duale and took him to one of the Sheikhs and a group of renown elders in Garissa Town, and prevailed upon them to support him for the Dujis constituency parliamentary seat," he said. Garissa Town was known as Dujis constituency at the time.
Raila told a public baraza in the county on Thursday that Duale went on to win the seat on an ODM ticket, and progressed to become what he is today.
"But unfortunately Duale, a political novice then, is now among those going around the country abusing and calling me all manner of names. I leave all this to God."
Duale has fiercely defended the government and dismissed Raila whenever he has raised concerns about matters including corruption and funds misuse.
He once questioned Raila's stance on corruption saying he could not be trusted to end the vice while defending Cord leaders implicated in the loss of millions in counties.
The Majority leader also claimed the Opposition leader had planted people at IEBC to help him rig the 2017 poll. This was before new IEBC boss Wafula Chebukati and his team were appointed.
Raila said it was unfortunate to see Duale dancing and dining with President Uhuru Kenyatta and DP William Ruto.
He said the two were against the MP when he fronted him for the parliamentary seat, campaigns for which he said he funded in full.
Raila, who received a rousing welcome to the county led by Nathif Jama, said he was confident he will win the presidency after the August 8 vote.
He warned the government against any attempts to rig the poll and rubbished claims that al Shabaab rebels stole BVR kits when they raised Arabia police post in Mandera county.
The Opposition leader said this was a plot by the government to record false information.
"We are forewarning Jubilee that we will not allow them to steal our votes because they will really have it rough,' said Raila.
But the electoral commission said data collected during voter registration in Mandera will not be lost following the theft of the kits.
"We fear three BVR kits may have been lost in the Mandera attack. But we expect no loss on registration data because of back-up procedures," the electoral commission said via Twitter.
"If confirmed that the kits are lost, rest assured that voter data on them is encrypted and cannot be abused."
Raila congratulated Somali president elect Mohamed Abdullahi saying they will work closely to ensure the Kenya-Somalia border is reopened for the sake of trade.
Raila also said he will pull Kenyan troops out of the country and assign them to the porous border.
"Our troops are being killed day and night because we lack the strategy. We have overstayed in Somalia. It is time our troops came back home," he said.
Al Shabaab have staged major attacks against the KDF in Somalia, two of them being the raid in El Adde during which at least 100 soldiers were reportedly killed and the Kulbiyow ambush.
Source link-the-star.co.ke