Mohammed Ali: Joho's Brother Physically Assaulted Me at Tononoka Rally (VIDEO)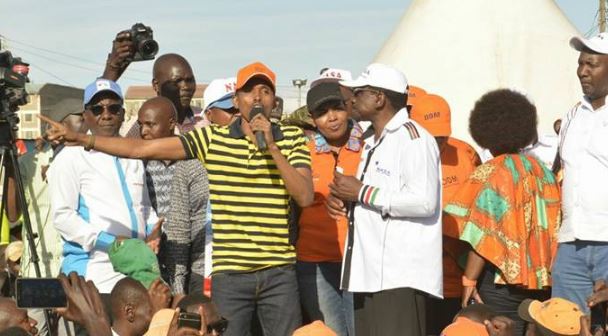 Former KTN investigative journalist Mohammed Ali has lodged a complaint to the ODM disciplinary committee against Governor Joho's brother, Said Abdalla.
According to Ali, Mr Abdalla who is eyeing the same Nyali parliamentary seat as Ali, verbally and physically assaulted him on March 26 during a campaign rally at Tononoka Grounds in Mombasa County.
Ali's complaint letter addressed to the ODM disciplinary committee reads in part: "Immediately upon calling Raila Odinga, he stood up and as he was coming to where I was standing, one Said Abdalla alias Saedo proceeded to physically assault me and violently grab the microphone.
The assault begun as verbal and in no time whatsoever he was on the podium where he started physically abusing me."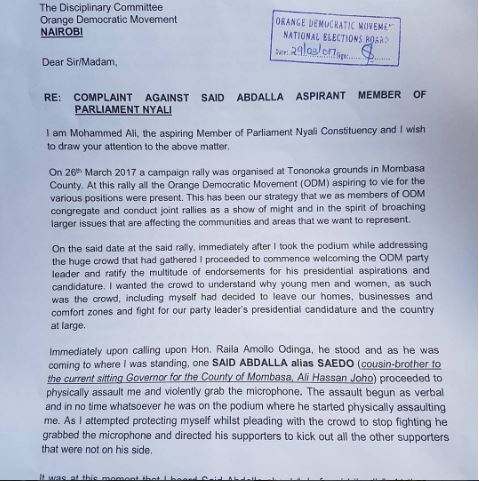 Ali backed up his claims by sharing a video of the incident on his Facebook page.
He wrote: "ODM disciplinary committee should now deal with hooligans. The people have decided. Being a brother to Governor Ali Hassan Joho doesn't give you the right to fight other aspirants on the podium. We know there are instructions not to release the said video with the evidence but it's too late. Be the judge. You can't bring a good man down."
Watch the clip below:

– nairobiwire.com