President Uhuru Kenyatta now deploys KDF to Baringo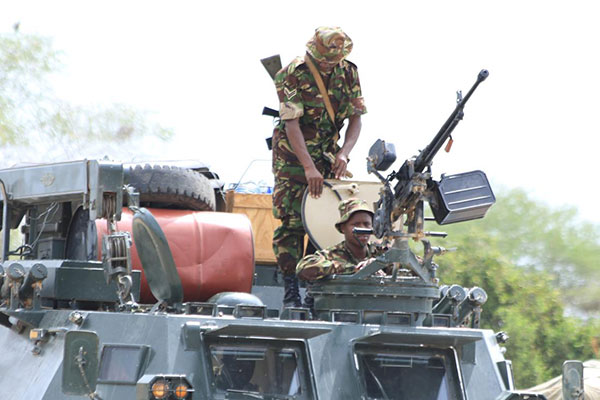 President Kenyatta has ordered the deployment of the military to troubled North Rift to help police restore law and order.
The Kenya Defence Forces will be sent to in parts of Baringo, Elgeyo Marakwet, Pokot and Laikipia counties.
"The deployment will further assist in disarmament and surrender of illegally held arms," President Kenyatta said during the pass-out for 3,985 fresh officers at the Administration Police Training college in Embakasi, Nairobi.
Mr Kenyatta said he had made the decision following a sitting of the National Security Council, which he chairs, on Friday.
ENEMIES
"Those people with illegal arms have continued to threaten the lives of Kenyans and should know from today they are enemies of State and therefore shall be treated as such," he said.
He went on: "We have agreed today that the military will join hands with the police to supplement, in terms of manpower and equipment that police lack."
The deployment follows blood-letting by bandits who have been slaughtering villagers at will.
DOZENS DEAD
On Tuesday evening, 11 people were killed when suspected Pokot bandits raided Mukutani Village in Tiaty Sub- County.
The attacks have left over dozens people dead since January.
Scores, mainly women and children, are fighting for their lives in hospitals after literally wriggling out of the jaws of death.
The President, during the State of the Nation address on Wednesday, placed the blame on politicians in those areas, for the deaths of dozens of residents, livestock thefts, wanton destruction of property and displacement of residents.
He has followed on his promise to use "all means possible" to end the violence.
INVESTIMENT
In his speech on Friday in Embakasi, the president said the government had invested heavily in providing police with better equipment, better working facilities, more vehicles and helicopters to support efficient operations.
He said forms of the police forces have been initiated to create a true meritocracy where advancement is based on excellence and misdeeds are duly disciplined.
"We have enhanced the quality of training received by police forces and you have been beneficiaries of those improvements," President Kenyatta told the graduating police officers.
Mr Kenyatta said the government had also invested in training more police officers and brought down the police – citizen ratio to one police for every 380 citizens down from 1:800 in a span of just three years.
EQUIPMENT
He cited the installation of surveillance systems in Nairobi and Mombasa and the improvement of the welfare of officers by expanding police housing units and inaugurating a health insurance scheme for police officers as part of the government's effort to motivate the officers and ensure efficient service.
President Kenyatta said the increased investment in the security sector and in the police forces is expected to help reduce crime and incidents of corruption within the police force to become relics of the past.
"We expect rapid response to reports of unrest and insecurity. We expect you to dedicate yourselves to your professional development. We expect you to explore and work towards international best practices in the execution of your operations," the President told the graduating officers.
BANDITRY
He added: "We expect to see stronger police-community relations that allow citizens to volunteer support and information to the police forces and act as partners in the maintenance of law and order."
The Head of State asked police officers to shun bias and reject prejudice in favour of fairness, saying they should cultivate an atmosphere where the citizens they serve will become more trusting and less wary of men in uniform.
Interior Cabinet Secretary Joseph Nkaissery thanked the President for his support to the National Police Service, especially in the provision of modern equipment and improving their terms of service.
Inspector General of Police Joseph Boinett and his Deputy in charge of Administration Police Samuel Arachi said the new officers would be posted to rural outposts to deal with among other things cattle rustling, counter-terrorism and other banditry.
Source link-nation.co.ke