Raila shares dinner with Kenyans at Swahili village in Washington, DC
Opposition leader Raila Odinga appears to have made full recovery from last week's food poisoning scare that saw him admitted overnight at a Nairobi hospital.
Mr Odinga was on Tuesday evening pictured sharing dinner with Kenyans at a restaurant in Washington, United States.
Pictures of the dinner at the Swahili Village restaurant were shared by Mr Odinga former spokesman and veteran Kenyan journalist Salim Lone.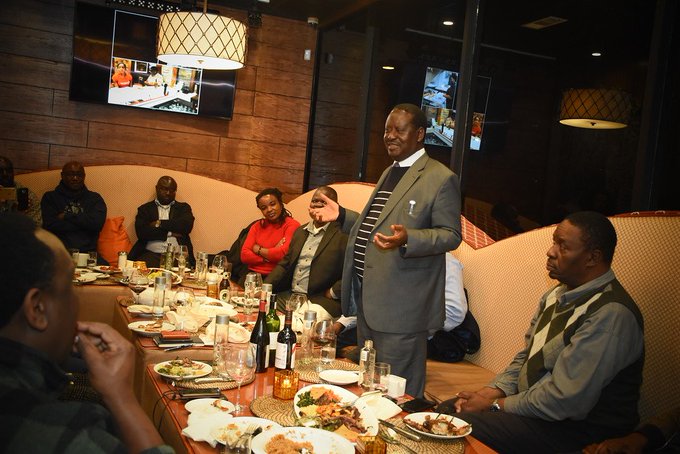 Raila's looking very good! And very happy! With friends who whisked him off to dinner in Washington's Swahili Village. Photos: Ken Agwa
Mr Odinga addressed those in attendance after the food and drink session.
"Breaking bread with a wonderful group of Kenyans. Thank you all for the good food and even better company," he captioned a photo shared on his Twitter handle.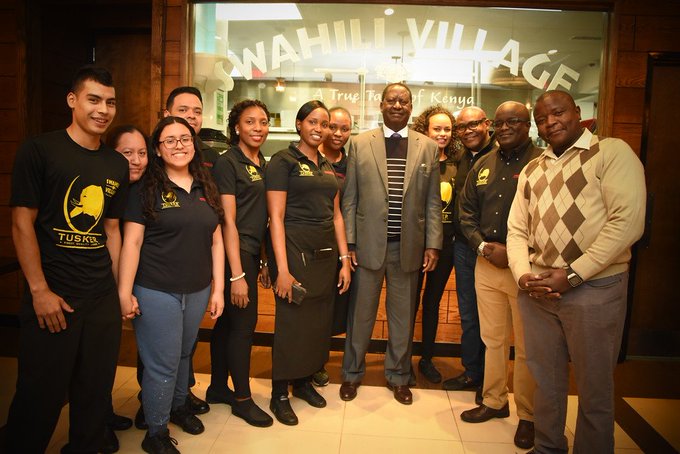 Breaking bread with a wonderful group of Kenyans @SwahiliVillage1 In Washington D.C. Thank You all for the good food & even better company
Mr Odinga left the country for South Africa last Friday to visit his daughter Rosemary Odinga who is hospitalized there. He subsequenly went to the United States for personal engagements.
About Swahili Village
July 13, 2016 marked a new era for Swahili Village Bar and Grill and the residents in the historic Town of Beltsville. Known for its innovations and being home to one of the largest federal research centers in the world, Beltsville will now claim its place in the history books as host to the finest African restaurant globally with the opening of Swahili Village Bar and Grill's new location. The new location is the result of hardworking, vision and dedication and has been inspected by Maryland Prince George's County agents to ensure every single detail is according to the strict code and guidelines for restaurants.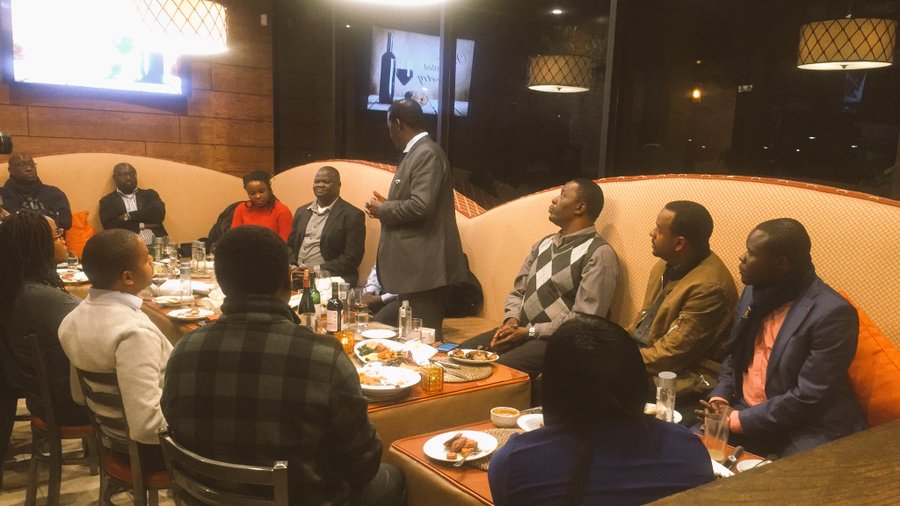 The official opening of Swahili Village Bar and Grill's new location at 10800N Rhode Island Ave, Beltsville, Maryland; is set to revolutionize the concept of African restaurants both nationally and internationally. A jewel in the works from the groundbreaking in late 2014, the restaurant has been developed with customer satisfaction top on the agenda. It is a topnotch experience from the moment one walks in and views the details that have been captured in the rich wooden finishing, lighting and interior décor that is a reflection of the bold authentic Kenyan cuisine that will be served. Billed to carve a place on the national wine and dining arena, Swahili Village has maintained a steady growth since its inception back in 2009. The new location has expanded seating and parking in response to the popularity of its Kenyan cuisine that mirrors a Kenyan family's dining table.
The Kenyan Ambassador to the United States His Excellency Robinson Githae kicked off the grand opening with a tape cutting ceremony. The unveiling at the ceremony in June 2016 was a showcase of what Swahili Village Bar and Grill had to offer in fine dining, carryout and catering services. It was attended by African Union Mission in DC Mr. Tarek Ben Yousef, Tanzanian Ambassador H.E Wilson Mashilingi, Namibian Ambassador H.E Martin Andjaba, Maryland State Delegate Joseline A Pena-Melnyk, Vice President Dr Or Prince George's County Economic Development Corporation Dr. Ganguly among other Stakeholders to share in the major accomplishment of the owner, Kevin Onyona.
Source link-jambonewspot.com
Raila shares dinner with Kenyans at Swahili village in Washington, DC