What Uhuru served US President at state dinner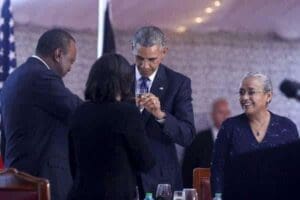 US President Barack Obama will never fail to amuse.
After "jambo, niaje and hawayuni" greetings at the opening of the Global Entrepreneurship Summit on Saturday morning, the President was at it again.
The world's most protected president shocked the 180 guests during a dinner at State House on Saturday evening organised by President Uhuru Kenyatta, when he took to the stage to dance to Sauti Sol's hit song, Sura Yako.
As if this was not enough, Obama was served with traditional food, including sweet potatoes.
Obama also took the free flowing soft and hard drinks, including Tusker Larger, Tusker Malt, Tusker Lite, mixed berry juice, tropical mix juice and assorted sodas.
Before the meals, Obama and the guests were served with an appetiser, Petit Four, before being served with roulade (a dish cooked or served in the form of a roll) of grilled vegetables on a salad of cherry tomato.
The guests also enjoyed granita, a drink made with crushed ice, and minted tomato.
There was also a canon of lamb, that is, one half of the loin side of a lamb accompanied by broccoli.
Chocolate mocha mousse, a sweet dish made as a smooth light mass with whipped cream and beaten egg white, flavoured with chocolate and typically served chilled was also on the menu.
There was vegetable lasagna, a baked dish that consists of noodles, a cheese mixture, a sauce, and vegetables.
Obama departed yesterday evening for Ethiopia after three days visit of his father's homeland.
– the-star.co.ke