Take all my money, Joho dares Uhuru after KRA requested for accounts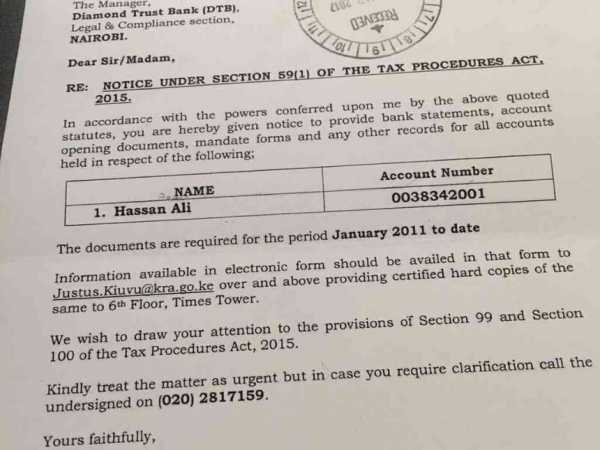 Mombasa Governor Hassan Joho has dared President Uhuru Kenyatta to go ahead and investigate him after KRA demanded his bank account details.
Kenya Revenue Authority in a letter to Diamond Trust bank sought to obtain Joho's bank statements dating back to January 2011.
"You are hereby given a notice to provide bank statements, account opening documents, mandate forms and any other records for all accounts held in respect of Joho," the letter dated March 14 stated.
KRA investigation and enforcement department commissioner Justus Kiuvu said the documents are required for Joho's account number 0038342991.
"Information available in electronic form should be availed in that form to [email protected] over and above providing certified hard copies of the same to 6th floor Time Towers," he said.
Kiuvu asked Joho to treat the matter as urgent.
But speaking at a rally in Lamu county, Joho dared Uhuru to investigate him saying he has three accounts at Barclay's, Stanbic and DTB.
"I have been filing returns and I wonder why the investigations have been ordered at this particular time. The government can go ahead and take all the money from my accounts if they so wish," he said.
Last year, Joho said he is a law-abiding citizen who has never cut corners to make his wealth.
He dismissed as propaganda claims that he is a rug dealer, saying "those behind the dirty politics aimed at mudslinging my name will never succeed."
Source link-the-star.co.ke