UK firm wants Uhuru to launch Homa Bay hyacinth-to-energy plant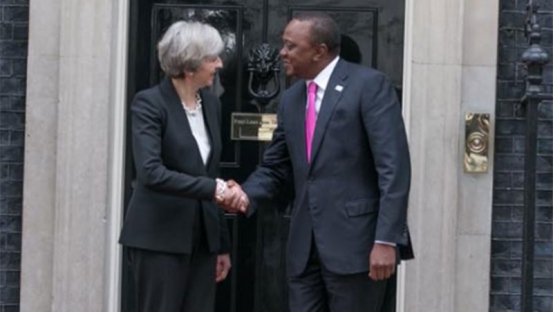 UK firm Equinox Energy Capital has said it is near financial closure of its 35 megawatt Homa Bay hyacinth-to-energy plant, which it wants President Uhuru Kenyatta to launch. The Equinox Energy Capital announcement was the biggest investment unveiled when President Kenyatta met British investors under the umbrella East African Association in London late on Thursday.
"We are making progress on our Homa Bay plant and are nearing launch. We would request you to come to Homa Bay for this event," Lord Barker, a UK peer and representative of Equinox Energy Capital told the President. At the same event, Lord Pollock, another UK peer, said the consortium he represented was ready to move on its $100 million Kipeto energy investment, and only a few details remained, including issuance of a standard letter of support from the government. The peers and other business executives drawn from companies with interest in East Africa were speaking at a forum convened by President Kenyatta to hear investor plans, fears and challenges.
The President already holds similar forums back home with the business umbrella group Kenya Private Sector Alliance (KEPSA). The President was in London for a conference on Somalia, and to meet UK government and business leaders. At the heart of his agenda is jobs for Kenya's youth. Another major announcement came from Nadeem Ahmed, Chief Executive Officer of tea firm Kericho Gold, who said he had $25 million ready for new investment in a value-adding plant on a 25-acre plot in Miritini, Mombasa County, which was likely to employ up to 10,000 youth. The meeting was also attended by Bob Chestnut, CEO of Aldwych International, who are part of the group delivering the 310 MW Lake Turkana Wind Power Project, which is running well ahead of schedule. President Kenyatta welcomed the progress in mobilising funds and other logistical arrangements the energy firms had made, and committed to the government resolving any outstanding issues to ensure the projects continued apace. He assured investors that Kenya was fully committed to continued removal of bottlenecks to business, as evidenced by improved ratings in the World Bank Ease of Doing Business indicators. Kenya is set to show great improvement for a third year running when the next set of data is unveiled. To cap the process, the President said he was setting up a one-stop-shop investment agency residing in his office, to coordinate all investment enquiries and link business to ministries and departments. President Kenyatta was accompanied to the forum by Cabinet Secretaries Amb. Amina Mohamed (Foreign Affairs) and Charles Keter (Energy and Petroleum), as well as Attorney-General Professor Githu Muigai. He asked Keter and Muigai to work closely with investors to resolve any outstanding issues.
Source link-standardmedia.co.ke