How Nkaissery fell off his bed while sleeping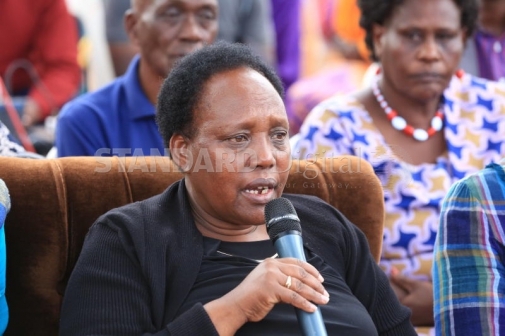 The widow of Interior Cabinet Secretary Joseph Nkaissery has broken her silence on the general's last moments.
Hellen Nkaissery Wednesday told a hushed group of mourners who included Kanu chairman Gideon Moi how her husband died without uttering a word shortly after the couple went to bed after 11pm.
According to Mrs Nkaissery, she preceded her husband to bed at around 11.30pm. The general followed shortly after and the couple prayed together.
"He prayed as he always did and I slept," she said.
Tragedy struck moments later.
"After about 20 minutes, I felt a sound as if something had knocked the side of the bed. I checked and found he had fallen off the bed," said the widow.
She told mourners how she tried to lift Nkaissery back to bed, but could not as he was too heavy. After struggling to drag her motionless husband back to bed, she called for help from the security detail outside the house.
"I called the askaris who rushed into our bedroom. My back was aching from my effort to lift him up," she said.
Nkaissery was then rushed to Karen Hospital, about five minutes away, where he was pronounced dead. According to his wife, the fallen general did not utter a word before he died.
"He went without saying a word, not even goodbye. He never whispered that he was in pain. He died like a soldier," said the widow.
Hellen may have had a premonition about her husband's demise. She told mourners that earlier on the day he died, she had been at their rural home at Bisil, but something urged her to return to Nairobi.
"At that time I had no car, I had to use a police car to Nairobi. When I arrived in Karen, my husband was not home yet," she said.
When he came home later, Nkaissery was in high spirits.
"He was in very high spirits and appeared buoyed by a telephone conversation with the President (Uhuru Kenyatta)," said his wife.
Moments later, he was dead.
Hellen was hospitalised after receiving news that her husband was dead.
But now the retired general's wife is back on her feet, determined to give her husband a befitting send-off. She assured Kenyans that the family was taking Nkaissery'sdeath in its stride.
"We are standing strong because that is what he would have wanted us to do – to be strong and stand firm," she said.
Mrs Nkaissery called on Kenyans not to speculate about her husband's death, saying the family was well represented during a postmortem on his body.
"I am at peace because Nkaissery went in peace; he did not die like a coward," she said.
Later, hosting a team from the Interior Ministry led by Principal Secretary Karanja Kibicho and Inspector General of Police Joseph Boinnet, Mrs Nkaissery said she hoped that Kenyans would get someone who can fit into her husband's shoes.
"Pray to God to give us somebody else to protect our country as passionately as he did," she said.
Senator Moi, who visited the family at Bisil in Kajiado, described Nkaissery a loyal Kenyan.
"He left a strong legacy for all of us. He was a leader not only of Kajiado but the whole country, that is why former President Daniel Arap Moi liked him," said Gideon.
Interior ministry PS Kibicho and AG Boinnet pledged to ensure peaceful August 8 elections in honour of the fallen CS.
Source link-standardmedia.co.ke