Raila's oath plan is a death wish: AG Muigai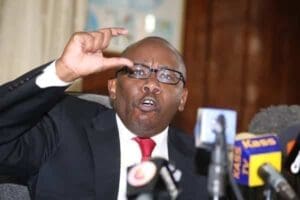 Attorney-General Githu Muigai has warned Nasa leader Raila Odinga that he faces the death penalty should he be sworn in as "people's president", and at the same time chided top lawyers in the opposition for misleading the former Prime Minister to take an "illegal" oath.
Also on the firing line could be Mr Odinga's running mate during the last General Election, Mr Kalonzo Musyoka, who was expected to arrive in the country last evening from Germany, where he has been attending to his ailing wife for two months.
It is not clear yet whether Mr Musyoka will take the oath with Mr Odinga, but it is expected that the former Vice-President will make his plans known on Tuesday or in the next few days.
TREASON
Prof Muigai on Monday insisted that Mr Odinga's planned inauguration would be illegal as Kenya already has a sitting president.
Such a move, he warned, amounts to treason, whose penalty is death.
"Government institutions will do what they are mandated to do if and when the time is right," Prof Muigai told journalists during the launch of the 2017-2022 Legal Aid National Action Plan in Nairobi.
This position is likely to place the AG on a collision course with defiant Nasa principals, who have vowed to proceed with their plans.
INTIMIDATION
Mr Odinga on Sunday announced a fresh bid for his swearing in ceremony after suspending similar plans, slated for December 12.
He said he will not be intimidated by President Kenyatta's warning against anyone threatening the country's peace and stability, even if it meant facing "death".
Sources within the opposition said those pushing for the oathing of Mr Odinga want the ceremony to carried out before the end of this year.
LAWYERS
Although the opposition has not announced a new date for the plan, Orange Democratic Movement (ODM) chief executive director Odour Ong'wen on Sunday said a timetable for the ceremony at a national gathering is ready.
But Prof Muigai accused lawyers and politicians within Nasa of misleading Mr Odinga.
He blamed the team of peddling falsehoods about treasonable offences, and in the process failing public discourse on the matter.
The AG has been on the receiving end of lawyers within Nasa, including Siaya Senator James Orengo, after he warned that Mr Odinga will face treason charges.
"Treason is not an easy offence to prove. Kenya's law of treason is an exemplification of how things were when England was an absolute monarchy," Mr Orengo said.
But Prof Githu disagreed with Mr Orengo's statement, saying "some Senator says there is nothing like treason law, that it is colonial law… this is a man sitting in the Senate?"
He asked the public to be wary of lawyer-politicians and "public intellectuals" who mislead them in their speeches and opinions.
Mr Musyoka, who is expected to attend the burial of Kitui West MP Francis Nyenze, could use the occasion to declare his position on the oath ceremony, which has divided Nasa's core support.
Some reports have suggested that the former VP is opposed to the idea of being sworn in alongside Mr Odinga.
Critics of the coalition have suggested that the absence of other Nasa principals during Sunday's launch of its People's Assemblies was indicative of a developing ideological rift.
CRITICISM
Both ANC leader Musalia Mudavadi and Ford-Kenya's Moses Wetang'ula were missing in Kilifi, while Makueni Senator Mutula Kilonzo — for Wiper in the absence of Mr Musyoka — on Monday said he was not privy to any discussions among the principals before Mr Odinga made the declaration.
ANC secretary-general Barrack Muluka said the conversation on whether to swear or not is still "ongoing" within Nasa.
But Lugari MP Ayub Savula (ANC) scoffed at the plan, describing it as a waste of time.
He asked the coalition's leadership to shelve the controversial idea as it serves no purpose.
"Swearing-in Mr Odinga is a waste of time," Mr Savula said at Parliament Buildings.
"What will happen after that? He doesn't have the National Intelligence Service, the police or the Treasury. How will he, then, operate?"