Kambas and Kikuyus are in-laws, Ikamba song 'despicable, evil' – Alfred Mutua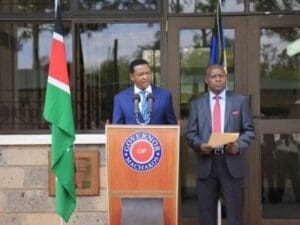 Kambas and Kikuyus descended from the same ancestors, Machakos Governor Alfred Mutua has noted in his response to "despicable" utterances in a song that is being investigated.
In the song, musicians Isaiah and Waharaka say "Kambas depend only on mangoes so when the fruit is out of season, they will eat dogs".
The song is also said to be offensive and distasteful and to castigate Kitui Governor Charity Ngilu over her ban on charcoal trading.
Several leaders have condemned it.
Mutua said: "The Kamba and Kikuyu communities are not only neighbours but they are also literally brothers and sisters drawn from the same ancestors.
"We have traditionally referred to each other as in-laws – athoni. We are one people separated by the area where we traditionally call home and influxes of the same language."
Mutua said the actions and utterances in the song were "despicable, contrary to law and order and not the hallmarks of a civilised society".
"We strongly condemn utterances and actions that perpetuate tribalism and hatred among the Kamba and Kikuyu," he told reporters on Wednesday, flanked by his Nyeri colleague Edward Mutahi.
"A hate song targeting a community is not only evil but also unacceptable."
"CHARCOAL BAN SHOULD BE RESPECTED"
The Governor further said it was improper to blame only one community for trade in charcoal and to release a hate song over the actions of a few.
Following the ban, protests have been held and property including cars destroyed.
"Destruction of property and vigilante actions only happen in a lawless country. The Kamba and Kikuyu are friends who live peacefully with each other and condemn acts that perpetuate discord," the county boss said.
Mutua asked stakeholders to respect Ngilu's ban as the county "has decided" – Ngilu banned charcoal trade in the county over effects on the environment.
The Maendeleo Chap Chap leader also asked leaders to preach and practise love, tolerance and peace and understand that their actions and statements affect the behaviours of their people.
On Tuesday, Kalonzo Musyoka's Wiper party condemned the vernacular song, Executive Director Jared Maaka saying it creates inter-ethnic animosity between the Kamba and Kikuyu.
The party also recommended that the entire country take up the charcoal burning ban to prevent imminent environmental disasters.