A bull for Obama as elated Kogelo residents welcome him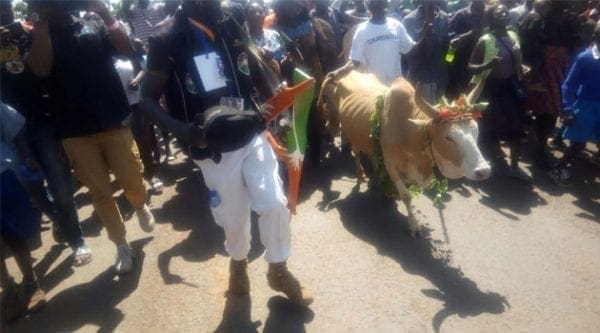 NAIROBI, Kenya, Jul 16 – It was a beehive of activities in the sleepy village of Kogelo, Siaya County, as they hosted former US President Barack Obama, during the launch of the Sauti Kuu Foundation.
Crowds formed along and near the venue of the event to have a glimpse of the not only most famous son of the village but in the entire African continent.
Some walked for kilometers, hoping they will see Obama and just say "Thank You".
A youthful group is among thousands locked outside the venue of invite-only event with a bull, which they insist must be handed over to Obama before he leaves for South Africa.
"Why are they stopping even those who have brought a bull to Obama? We want Obama to go with it to the United States," an agitated youth told Capital FM News.
Some would be seen playing traditional music a few kilometers from the venue.
"I am optimistic that Obama cannot leave without saying hi to his village mates," a woman, only identified as Grace said.
Others who spoke to Capital FM News pleaded with organizers of the event, to allow them to pass their gratitude to Obama while protesting heavy security presence, and yet, they don't mean harm to him.
"Obama has given us iron sheets to build modern houses among other things. Why are they barring us from seeing him?" Julius Okelo, a local wondered.
"Security is so tight that we cannot have a glance at our son. Whoever will reach Obama, must tell him that when he comes to Africa, he must behave like Africans."
Another cautioned that "we will still see Obama whether they (security officers) like it or not."
Obama arrived at the foundation accompanied by his half-sister Auma Obama a few minutes to 11am, after meeting his grandmother Sarah Obama at her homestead, a few kilometers from the event.
A contingent of the General Service Unit officers has been deployed in the area to ensure everything goes as planned, including controlling the surging crowd along and near the venue of the event.
Obama arrived in the country after three years, since his last visit.
Then, it was a state visit since he was a serving US President.
On Sunday, he was received by his sister Auma, CS Foreign Affairs Monica Juma and US Ambassador Bob Godec.
He then proceeded to State House where he held a meeting with President Kenyatta.
Later, Obama met former Prime Minister Raila Odinga in a city hotel, where they also held discussions on a wide range of issues.
"He spoke very passionately about his foundation and particularly the empowerment of the youth and I commend both him and his sister Auma Obama for the commendable job they have done in building the community in Kogelo," Odinga said, in a statement posted on his social media platforms.
"Always a champion of democracy, President Obama threw his support behind the Building Bridges initiative and pledged his support in helping bring the country together and fighting corruption. Finally, we spoke about ending the stalemate in South Sudan and finding peace for our neighbours."