LIST OF VISA ON ARRIVAL COUNTRIES FOR KENYAN PASSPORT HOLDERS 2019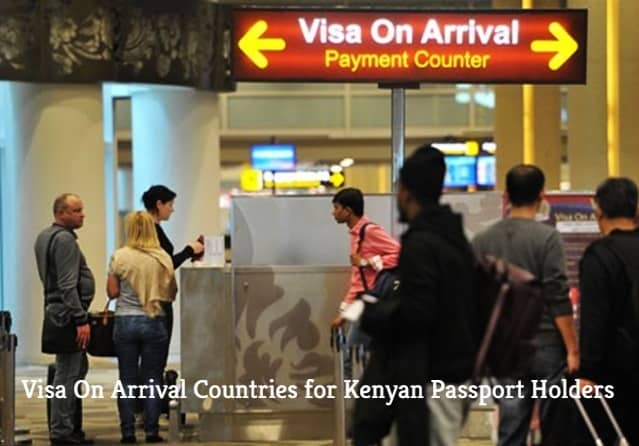 This is a list of  Visa on arrival countries for Kenyan Passport holders as of 2019. Visa On Arrival means you will receive a visa to enter the country's airport once you land. No pre-application is required unless stated in their requirements. An immigration officer will grant you the visa when you show up and only after the associated visa fees have been paid.
This kind of visa is usually issued to Kenyans when they enter the visiting country for a holiday or tour.  Most of the countries on this list are famous tourist destinations. As of 1 January 2019, Kenyan citizens have visa on arrival access to the following countries and territories.
List Of Visa On Arrival Countries for Kenyan Passport Holders 2019
​​

Country​​

Period of Stay

1

Bolivia

90 Days

2

Burkina Faso

–

3

Cape Verde

–

4

Cambodia

30 Days

5

Comoros

–

6

Democratic Republic of the Congo

–

7

Guinea-Bissau

90 Days​​

8

Jordan

-​​

9

Laos

30​​ Days

10

Macau

–

11

Madagascar

90 Days​​

12

Maldives

30 Days​​

13

Mali​​

​​

90 Days​​

14

Mauritania

-​​

15

Nepal

–

16

Nigeria

–

17

Palau

​​

30 Days

18

Saint Lucia

6 Weeks​​

19

Sierra Leone

–

20

Somalia

30 Days​​

21

South Sudan

-​​

22

Sudan

-​​

23

Timor-Leste

-​​

24

Togo

7​​ Days​​

25

Tuvalu

1 Month

26

Samoa

60 Days

27

Seychelles​​

3 Months​​

28

Somaliland

30 Days​​
By Victor Matara