Woman who gave birth at Shalom Hospital now blames man who recorded the incident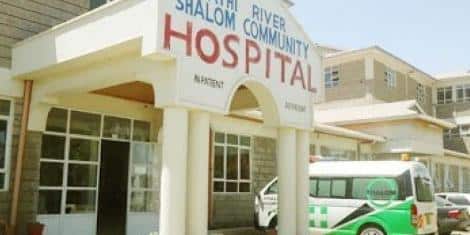 The woman who gave birth on the floor at Shalom Community Hospital in Athi River is now blaming the man who recorded the incident.
In a surprising twist, the woman said there was no negligence by nurses since she gave birth immediately she arrived at the health facility.​
"Haikukua vile mliskia huko nje… Ilikua dakika ya mwisho na hakuna kuzuia sasa nlifika hivi na hakukua otherwise. Vile nilifika hivi kwa hospitali, mtoto akatoka. So hakuna mwenye alinibeba vibaya hakuna mwenye alikua amelegea. Sasa mimi nasema mwenye ameshikwa aachiliwe. Hakuna mwenye ako na makossa," she was quoted by Citizen TV.
(The incident was misreported. Everything happened so quickly and soon as I got to the hospital the baby came out. No one mishandled me. Please release the nurses who have been arrested. They did not do anything wrong.)
She further added: "The one who recorded the video should be arrested. I even thought he is a doctor. He has really offended me."
On Monday, the hospital's administrator Thomas Ndolo was arrested alongside a nurse identified as Edna Nyarangi.
Officials from the Kenya Medical Practitioners and Dentists Board and Nurses Council who visited the hospital on Monday noted that there was negligence within the facility and the administration was given a month to comply with health standards or face license revocation.
"It is our findings as a team that there were issues of negligence within the institution and how the patient was treated.
"The hospital is strongly reprimanded for the incident, that happened. In addition, the audit will make recommendations for which the hospital will be given 30 days to comply failure to which the board will be forced to withdraw its license," said Dr. Nelly Bosire.
Here is the video: