Bishop Wafula,formerly of Neno Evangelism opens new church in Mombasa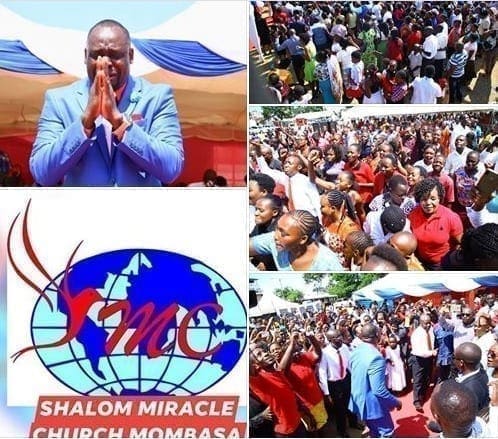 Bishop Robert Wafula, formerly of Neno Evangelism Mombasa has opened a new church in Mombasa  called Shalom Miracle Church. This came just few weeks after falling out  with his Mentor General Commander Bishop James Nganga.
Bishop Wafula's  new ministry, Shalom Miracle Church was launched at Tononoka Grounds in Mombasa on June 16th 2019. Here is the invitation to the launch where he announced "Njia Imapatikana" we have found the way.
His departure from Neno Evangelism few weeks ago come after Apostle James Maina Ng'ang'a hauled despicable insults at him in a viral video.
Apostle James Ng'ang'a had accused the Bishops of disrespecting his wife Murugi Maina and had threatened to teach them a lesson.
Unconfirmed report had indicated that Bishop Robert  Wafula had accused Ng'ang'a of frustrations and interfering with church affairs.
Unconfirmed report says that  about 90% of Mombasa Neno Evangelism ministry followers have joined Bishop Wafula's new ministry,Shalom Miracle Church.
After the launch of Shalom Miracle Church,Bishop Wafula took to the social media and posted a message in Swahili saying that the plans of God cannot be stopped "MAKUSUDI YA MUNGU HAYAWEZI KUZUILIKA
Ayubu 42:2 Najua ya kuwa waweza kufanya mambo yote, Na ya kuwa makusudi yako hayawezi kuzuilika"
Before Bishop Wafula resigned from Neno,a video went viral of him  singing praises to Apostle James Nganga. In that video,the Bishop is heard saying that Apostle Nganga has made him who he is today. Below is the video.
By Isaac Kariuki/Diaspora Messenger