VIDEO: Villagers barred from the burial of billionaire Wilfred Murungi
Odd burial as close kin locked out of tobacco tycoon's funeral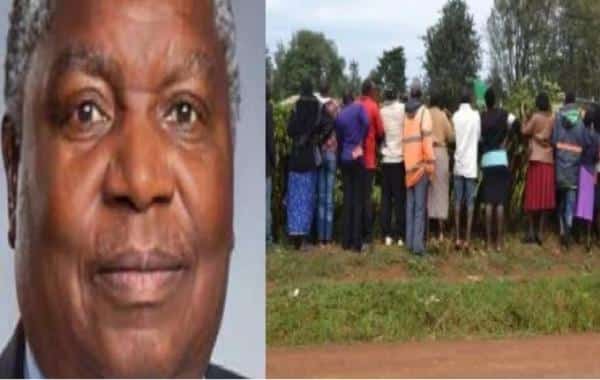 Villagers barred from the burial: Only eight family members were allowed to attend the funeral of the Mastermind Tobacco Kenya Limited tycoon, Wilfred Murungi, at his home Magutuni area, Maara constituency in Tharaka-Nithi County.
His neighbours, friends, and villagers were asked to keep off as heavily armed police officers from Magutuni and Chogria police stations, were deployed to ensure no one forced his way to the burial.​
When the chopper carrying his body landed in Kiurani Primary School at around 11:10 am, the casket was quickly loaded into an elegant Mercedes hearse, which was on standby.
Journalists and villagers could only peep through the fence as reports say the daughter had instructed the police to ensure no one saw the casket.
And as the dead body was taken to his home a kilometre away from the primary school, local administrators kept the curious residents and journalist at bay.
At the home of the tycoon, where one has to go through four gates before accessing his house, police were on alert as they manned the entrance.
Billionaire Wilfred Murungi burial
Standard digital learnt that even men who dug the grave were kept off when the body arrived at his palatial home.
They were later called, after the casket was lowered, to fill the grave with soil which was already half done such that they could not see the coffin.
Reports also say that the funeral was conducted by clergy from Nairobi. No photos taken, no food cooked. It was just a one-hour business.
An obituary in the dailies indicated that a memorial service would be held at the All Saints Cathedral in Nairobi tomorrow- two days after his private burial.
According to the area residents, the burial of Murungi is reminiscent of his wife who died back in 2010. Only 40 people were allowed to attend the funeral with Murungi in absentia.
"He landed at the same primary school ground with a chopper containing the body of his wife, handed it over to his children and the other family members and immediately flew back to Nairobi," Mr. James Mutembei, a villager, told local daily.
Members of the Arua clan, to which Murungi belonged, expressed their disappointment after being denied a chance to bury one of their own.
Mr. Murungi worked as an Engineer with the British American Tobacco (BAT) before he resigned and started Mastermind Tobacco Kenya Limited in the late 1980s. He is the founder of the Supermatch brand of cigarette.
Even though Murungi lived a private life, with most villagers unaware of who he was by appearance, his works of charity and development in the community is impeccable.
He was the Chairman of the Board of Management of Kiurani Secondary School for many years where he gifted the school with a bus and a multipurpose hall named after him.
Igakiramba Secondary School in the area will remember him for a laboratory he built for the school. Residents say that many children will forever be indebted to him for footing their school fees and later giving them jobs in his company.
"It is unfortunate that we did not get a chance to appreciate his generosity with a good send-off that he deserved. We were told he decided to make it a private family affair," said Nancy Kainyu, a resident.
Murungi is survived by his two sons and two daughters.
By Bosco Marita
Video by DailyNation