Life story of Mwende Mwinzi: Wife, mother, humanitarian and politician
Life story of Mwende Mwinzi: Wife, mother, humanitarian and politician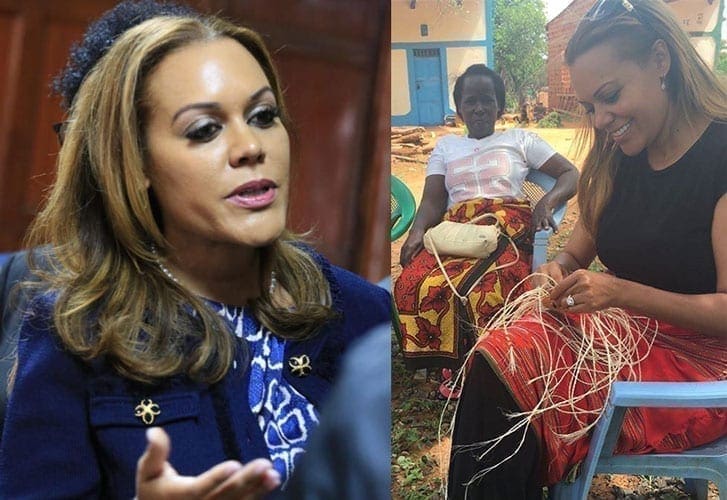 On November 14, 2019, the high court ruled that Kenya's ambassadorial nominee to Seoul, South Korea, Mwende Mwinzi cannot be forced to renounce her US citizenship in order to take up the position.
This was after parliament tried to bar her from accepting the position over her dual citizenship having been nominated in May by President Uhuru Kenyatta.
Mwende Mwinzi is a humanitarian, politician, wife and mother (Photo: George Njunge/ Standard)
A United States citizen by birth, Mwende Mwinzi was born in Milwaukee, Wisconsin in 1971 to Mary Christine Geil, an American, and Maluki Mwinzi- a Kenyan national.
Her father, a renowned teacher and politician in Kitui, had flown to the US to pursue his undergraduate and then post-graduate degrees where he met her mother. Once his dalliance in the US was up, he left Wisconsin for Kitui County Kenya where Mwinzi was raised and educated.
She has two sons, Mezz (above) and Nnameka  (Photo: Facebook @Mwende Mwinzi)
Like her father, she went to the US for her higher education and married Emeka Edozie, a Nigerian, with whom she has two sons; Uzoemezie "Mezz" and Nnameka Jaden.
The couple lived in the US where Mwinzi worked as an Assistant Vice President for a Wall Street investment bank and served in the marketing department as a writer focusing on business development.
Mwinzi speaks to a constituent of Mwingi West during the 2017 campaigns (Photo: Facebook @Mwende Mwinzi)
The humanitarian has, over the years, dedicated her life and work to improving Kenya's image abroad in a bid to ensure that the quality of life for the average Kenyan improves.
She has worked to enhance Kenya's image abroad (Photo: George Njunge/Standard)
In 2005, however, she resigned from her cooperate job so that she could give more to her people back home and supported vulnerable and children orphaned by HIV/Aids in Kitui County through her organisation Twana Twitu, which she founded in 2001.
She is dedicated to improving the lives of Kenyans through her work in Kitui County (Photo: Facebook @Mwende Mwinzi)
Referred to as "Kelitu Kaitu" – meaning our girl- by locals, Mwinzi has stayed true to this with the work she has done for her people.
Internationally, she is remembered for her role in a team that worked hard to change to our country's image abroad which was previously taking a beating.
Mwinzi and her lawyer after the high court ruling (Photo: George Njunge/Standard)
She was a columnist for a local newspaper and also served as a member of the National Economic and Social Council (NESC), which, according to the Cabinet Affairs Office website, advices the government on policies which will help increase social and economic development in Kenya. This council was responsible for Vision 2030.
Politics is in her blood. In 2017, she ran for the Mwingi West parliamentary seat but lost. With the High Court ruling, we look forward to seeing this #bossbabe soar.
Source-standardmedia.co.ke
Life story of Mwende Mwinzi: Wife, mother, humanitarian and politician