The Kenyan Woman Married to Billionaire NBA Legend Dirk Nowitzki
Dirk Nowitzki and Jessica Olsson's children: Malaika Nowitzki, Max Nowitzki, and Morris Nowitzki.
The Kenyan Woman Married to Billionaire NBA Legend Dirk Nowitzki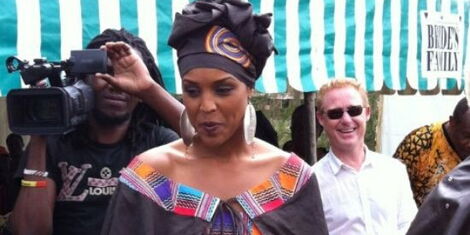 Jessica Olsson, the Kenyan woman married to billionaire NBA legend Dirk Nowitzki was born in 1982 in Gavle, Sweden to a Swedish father and Kenyan mother, Njeri Waikwa, from Nanyuki. She is married to a former German basketball player for the Dallas Mavericks of the National Basketball Association (NBA).
Dirk Nowitzki is identified by fans and fellow athletes as the greatest player to ever don the Dallas Mavericks jersey, and is a future candidate for NBA hall of fame. He retired in April 2019, after 21 seasons.
According to a 2019 report by Forbes, Nowitzki was valued at $242 million, which approximately Ksh24 billion.
Jessica met Nowitzki at a charity event in 2010 that had been organised for sports.
At the time, she worked at the Dallas Art Gallery. The legendary basketball player immediately became smitten with Jessica and they began dating.
"I think we just clicked intellectually. She likes art, she likes sports. Her brothers both played soccer. She grew up around sports. We both love tennis and we love to travel. We both love kids and family," Nowitzki told Dallas News at the time.
The couple tied the knot in 2012. First, in a traditional ceremony at Nanyuki, and a formal wedding at the family's home in Dallas, Texas.
In a test of how well they knew each other, he had to find Jessica among five women who had all been covered up from head to toe. Dirk was able to pick out Jessica by her height and scent.
"We went to Kenya to see cucu," Nowitzki told Lifestyle, a South African magazine, during an interview in 2015.
The couple is blessed with three children, Malaika Nowitzki, Max Nowitzki, and Morris Nowitzki.
He went on to add that he traversed Kenya for a week in a low-key affair, from the Mount Kenya region, Nairobi to Mombasa.
Nowitzki stressed the importance of exposing the couple's three children to their Kenyan heritage numerous times.
In 2011, Nowitzki was crowned NBA player of the year. When Nowitzki got up to accept the award for being the best NBA player, he kissed Jessica and Twitter erupted.
The veteran basketball player stated that no one had ever confronted him with racist comments about his wife.
"Nobody actually approached me with it. Everybody that's met my wife has said she's great with me. So I haven't heard any of that to my face. I'm sure there are some people that think of it to themselves. But, I've never heard it to my face," he explained to Dallas News.
"Growing up in Germany, and basketball, we've always grown up around all sorts of races. I played with the national team where half of my teammates were from Yugoslavia. Colour or race for me never really mattered, and that's also the beauty of sports. You're a team. Same with marriage. You're a team," he told the American news outlet.
Jessica is the firstborn in a family of three. She has twin brothers, Martin Waikwa Olsson and Marcus Munuhe Olsson. The duo play their trade as footballers in England. Martin plays for Swansea City FC while Marcus plays for Derby County FC.
By EZRA MANYIBE
Source-kenyans.co.ke
The Kenyan Woman Married to Billionaire NBA Legend Dirk Nowitzki