Video of mentally ill Man Impersonating News Anchor Goes Viral
Video of mentally ill Man Impersonating News Anchor Goes Viral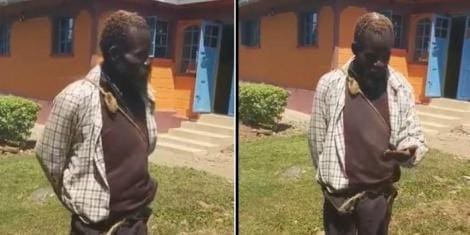 The video of a man who appears to be mentally challenged has gone viral on social media, with Kenyans praising him for impersonating news anchors.
The video which was shared on Saturday, August 1 showed the man pretending to be reading the news.
He was dressed in rugged clothes and his hair was brown and unkempt while his behaviour and  appearance looked like that of a mentallly ill person.
However, when he opened his mouth, he spoke with the confidence, cadence and tone of a news anchor. His speech and appearance were in sharp contrast.
"This guy has passion,cramming skills at a higher level and the best sound to be heard on radio.Listen to his funny word pronunciation in Luo.I think given a job he can win listeners like me," a Facebook user only identified as John commented.
"He has a very good voice and choice of words to become a presenter, only that he appears mentally challenged," Mishi Mrisho added.
There have been numerous debates about the correlation between highly gifted people and mental illnesses.
Given the ongoing debate over whether giftedness is associated with mental health disorders, there is a need to highlight and compare results from studies.
Maureen Neihar, a licensed psychologist with more than thirty years' experience says that there is evidence to support two contrasting views about the psychological well-being of gifted people.
According to her, giftedness enhances resilience against disorders and also increases vulnerability.
"Whether the psychological outcomes for gifted children, adolescents, and adults are positive or negative seems to depend on at least three factors, namely, the type of giftedness, the educational fit, and one's personal characteristics," reads a research paper she authored.
Gail Post, a licensed psychologist holds the view that while gifted children and adults are not necessarily more prone to mental health problems, they still experience emotional and interpersonal challenges as a result of their heightened sensitivities, overactive minds.
Source-kenyans.co.ke