Miguna Miguna Gets Back His Confiscated Kenyan passport
Miguna Miguna Gets Back His Confiscated Kenyan passport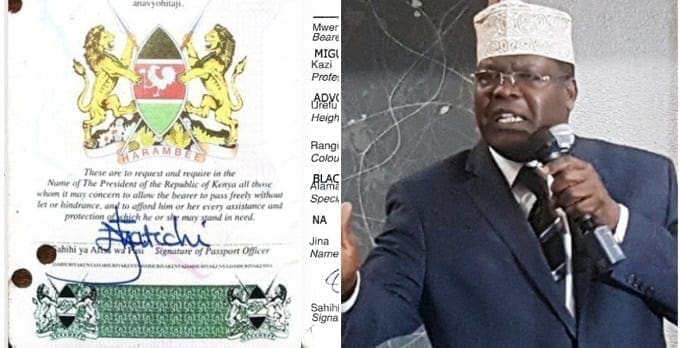 Controversial Kenyan/Canadian lawyer cum politician Miguna Miguna says his Kenyan passport confiscated by immigration officials and which led to his deportation from Kenya early 2018 has been returned to him.
Through his social media platforms,Miguna Miguna  said on Sunday that the passport was retrieved from the High Court registrar in Nairobi by his lawyers.
Miguna Miguna shared images of his perforated passport which was issued to him in March 2009 and which has since expired.
This is what he said in his Twitter account ""After more than two and a half years of constant demands and presser, my lawyers eventually retrieved the perforated Kenyan passport from the High Court Registrar at Nairobi. The TRUTH cannot be hidden, or LIES peddled, forever,"
Miguna was first deported to Canada in February 2018 days after his arrest over his role in the mock swearing-in of ODM leader Raila Odinga.
The Kenya immigration department later said that Miguna was in Kenya illegally as he had renounced his Kenyan citizenship when acquiring a Canadian passport.
In March 2018, Miguna attempted to return to Kenya through JKIA but was banished after spending several hours at the airport's detention facility.
His return to Kenya early this year was thwarted after the government allegedly issued a red alert against him before he boarded his flight in a German Airport.
In December 2018, the High Court ruled that Miguna is a Kenyan by birth, and holding a Canadian passport does not deny him his birthright.
In his ruling, Justice Chacha Mwita declared that the State violated his rights by deporting him and awarded Miguna Sh7.2 million in compensation.