Diaspora Kenyan husband paid hitmen Sh1.5 million to kill wife Lucy Njeri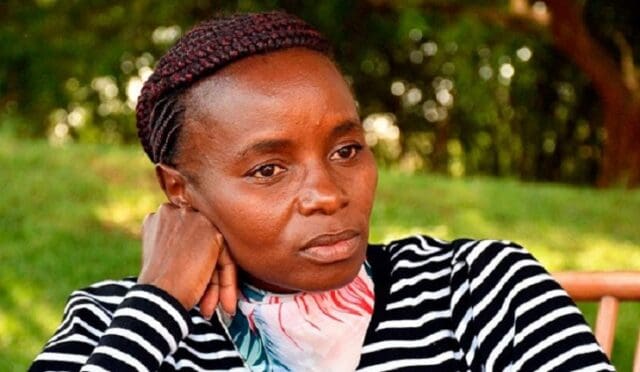 On November 16, last year, Lucy Njeri Muhami, 48, packed her three suitcases and a small leather bag ready for her routine vacation in Kenya.
From Canada where she has lived for more than a decade, she was to make a stop in Nairobi and then head home to Embu where her husband would later join her for the Christmas festivities.
The following day, she bid her husband, Nelson Ndereba Njeru, goodbye at Toronto airport where he escorted her to board her flight to Amsterdam from where
she would connect to the Jomo Kenyatta International Airport (JKIA).
"He hugged me as usual as we bid each other goodbye," recalls the athlete.
The couple are athletes with dozens of middle and long-distance races under their belts in careers spanning over two decades for the man and one decade for the woman. In the course of their careers, they have amassed properties bought with prize monies.
The couple from Embu got married traditionally in 2002. At the time, Njeri was two years into her running career with specialty in middle-distance races both locally and abroad.
Her partner was nearly a decade into his running career, majorly marathons, locally and overseas including Korea, Germany and China.
In 2000, Ndereba had won the Beijing Marathon for the second time, bagging $20,000 prize money at the time, according to worldathletics.org.
As their relationship blossomed, on August 27, 2006, Ndereba would sign a letter granting consent to Njeri to act on his behalf in property transactions.
In the letter affixed with a copy of his national identity card, he referred to Njeri as "my common-law partner otherwise called wife since February 2002".
When they left Kenya, at some point they were living separately; Njeri in Mexico and Ndereba in Canada. Njeri says this was her first time travelling alone for their annual vacation home since the two moved in together in 2010 in Toronto,.
"I had suggested that since I was travelling alone, my brother Ben picks me from JKIA, but he (Ndereba) offered to hire a taxi to pick me up from the airport and chauffeur me for two days around Nairobi before taking me to our home in Embu," she recalls. She was looking forward to the visit as she was last here in 2019.
On November 17, her plane touched down at JKIA at 10pm. She was cleared by the immigration officials at midnight then stepped out to look for her taxi driver.
"Luckily he was there waving a placard with my name… The car was black and I think it was a Toyota van, which was unusual because my husband had informed me that he had hired a Prado," she recollects.
As she entered the car, she realised that the driver was with another man whom she assumed to be his colleague. They then drove out of the airport headed to the Embassy hotel where she had booked a room for her two-day stay in the city. Thereafter, she was to be driven to Dallas, Embu where the couple has a home.
However, she says she noticed something unusual when they got to the airport's exit pay point.
"The driver seemed unaware of what to do," she recalls, which surprised her.
She also noticed another unusual thing – the driver of the car behind them in the pay queue came to the front and helped her driver clear the parking fee.
"I was pleasantly surprised and asked him if that generosity was the norm. My last time in the country was 2019 and I could see that a lot had changed, so I thought of asking them that," she says.
Out of the main airport entrance, they joined Mombasa road. She recalls that the car was moving at a slow speed. Before long, she says, the person she assumed to be the driver's colleague jumped into the back seat of the car and started strangling her.
It was then that they dropped the bombshell. She claims the man told her that they had been paid Sh1.5 million by her husband to kill her and dump her body in Karura forest.
"The instructions were so clear that they knew I had copies of my properties' documents with me, which they also asked for as instructed. I pleaded with them to spare my life and they agreed on condition that I pay them Sh2 million," she alleges.
At this point, she says, the man stopped strangling her and played an audio recording of how, purportedly, the murder was planned. She says the gang replayed an audio recording of a conference call in which they were being given instructions on the execution.
"They threatened to complete their assignment if I failed to cooperate with them," she recalls.
The man then picked up her leather bag and told her to hand over the Sh1.1 million in US dollars that she had carried in the bag, her three phones and copies of their properties' documents.
She recounts a subsequent WhatsApp telephone conversation in which she overheard the hitmen and the man on the other end discussing how to eliminate her and dump her body.
In the audio, the hit men are heard receiving instructions on how to confirm to the planners once Njeri has landed and as soon as her body is dumped.
Hit man: Atafika saa ngapi (What time will she be landing)?
Planner: Si nilikutumia hizi details zote. Atafika saa nne usiku (I sent you these details. She will arrive at 10pm).
Hit man: Sawa basi nitawasha WhatsApp saa hiyo (Alright, I shall switch on my WhatsApp at that time).
Planner: Hapana, washa saa hii. Jaribu kuweka credit ikae ikiwa open. Kwanza saa hii ni saa ngapi (No, switch it it on now and try load some airtime for it to remain online. By the way what time is it in Kenya)?
Hit man: Saa hii ni kitu 5pm (It's around 5pm).
Planner: Nilimwambia akifika airport yule mtu anamngoja atakuwa pale nje na atakuwa na karatasi hapo imeandikwa jina yake (I told her the person waiting to chauffer her will be waiting with a placard bearing her name).
Hit man: Sawa baba, haina shida. We nikimchukua, nikimaliza story si nitawapigia bora mtakuwa on. Sawa (Alright, there's no problem. When I pick her and finish the assignment, I shall call you as long as you will be online, okay)?
Planner: Sisi tuko on from saa hii (Okay, we shall be on starting now).
Hit man: Mimi nitakuwa on nikimaliza mchezo (I shall be online when I finish the assignment).
Planner: Si ndio (Yes).
Hit man: Sawa baba. Sawa shangi (Alright).
Planner: Ukifaulu utapata kitu juu. Tutaangalia hiyo maneno hakuna wasi wasi (If you succeed, you shall get a reward on top, we shall look into that don't worry and good luck). Goodluck!  …
By Mary Wambui
Source-https://nation.africa/
Diaspora Kenyan husband paid hitmen Sh1.5 million to kill wife Lucy Njeri