A kenyan man Edi Mue Gathegi Makes it big in Movie industry
A kenyan man Edi Mue Gathegi Makes it big in Movie industry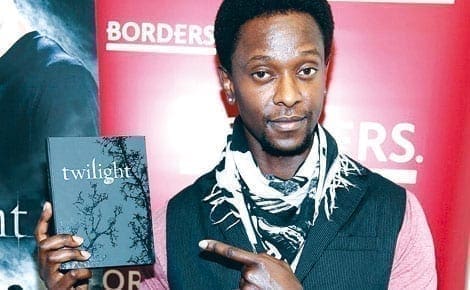 Edi Mue Gathegi (born March 10, 1979) is an American film, stage and television actor. He is best known for his appearances as recurring character Dr. Jeffrey Cole ("Big Love") in the television series House, as Cheese in the 2007 film Gone Baby Gone and as Laurent in the 2008 film Twilight.
Though born in
Nairobi
,
Kenya
, Gathegi grew up in
Albany
,
California
. As an undeclared undergraduate at
University of California, Santa Barbara
, he was interested in playing basketball until he injured his knee; he took up an acting class as an "easy course" because he was "depressed" and discovered a love for acting.Afterwards, he attended the
Tisch School of the Arts
at
New York University
for a graduate school acting program.Gathegi's career began in theatre, and his stage credits include Two Trains Running at the
Old Globe Theatre
, As You Like It, Twelfth Night, Othello, A Midsummer Night's Dream, and Cyrano de Bergerac, among others.
Gathegi's first professional role was the Haitian Cabbie in the 2006 film Crank. Though he had originally auditioned for the role of Kaylo, the producers gave the role to
Efren Ramirez
and instead offered Gathegi an appearance as the Haitian Cabbie

.

He was dubious at first about performing a
Haitian
accent, but was coached by his Haitian friend.In 2007, after guest-starring on Lincoln Heights and Veronica Mars, Gathegi went on to star as Bodie in Death Sentence, Darudi in The Fifth Patient and Cheese in Gone Baby Gone. He later had a recurring role as
Mormon
Dr. Jeffrey Cole on the television
medical drama
House, and guest-starred on CSI: Miami, CSI: Crime Scene Investigation and Life on Mars in 2008 before being cast as Laurent in Twilight. When Gathegi first auditioned for the 2008 film, adapted from the same-titled
first book
in
Stephenie Meyer
's
Twilight series
, he had not heard of the series and was not aware that his character was a vampire.[4] He now has read the whole series and calls himself a "hardcore" fan.
Gathegi appeared as Deputy Martin in 2009's My Bloody Valentine

]

He plans to star in a spring
Broadway
production of Joe Turner's Come and Gone and is also in negotiations to return to his role as Laurent in Twilight sequel New Moon.
.
Video results for Edi Gathegi
---
---
Zimbabwe PM's wife dies in crash
Morgan Tsvangirai and wife Susan
The wife of Zimbabwe's Prime Minister Morgan Tsvangirai has been killed in a car crash in which he was also slightly hurt, party officials say.
Susan Tsvangirai was travelling with her husband south of the capital, Harare, when the crash happened.
Mr Tsvangirai, leader of the Movement for Democratic Change (MDC) party, formed a unity government with President Robert Mugabe last month.
Mr Mugabe has reportedly visited his former long-term rival in hospital.
Zimbabwean journalist Brian Hungwe told the BBC that both the president and his wife Grace had gone to the clinic in Harare where Mr Tsvangirai is being treated.
Hungwe said he had been told that Mr Tsvangirai, who will turn 57 next week, was in a stable condition but in a state of shock.
The prime minister is said to have been on his way to his rural home in Buhera, where he planned to hold a weekend rally, when his vehicle was involved in a crash near Beatrice.
A spokesman for Mr Tsvangirai, James Maridadi, told the AFP news agency: "The prime minister was travelling to Murambinda [in Buhera district] at about 1600 hours when his vehicle was involved in an accident with a haulage truck.
"The vehicle in which the prime minister was travelling rolled over about three times with its four occupants."
The AFP quoted an MDC minister as saying the driver of the lorry had been asleep at the wheel.
The crash comes just two days after Mr Tsvangirai delivered his maiden speech to parliament after being sworn in as prime minister in Zimbabwe's power-sharing government.
He and his wife Susan, who married in 1978, had six children.
She was a great source of strength to her husband when in the past he was charged with treason and assaulted for his opposition to Mr Mugabe, and sat through all his treason trial, our correspondent says.
She also made a point of visiting MDC members who were jailed while the party was in opposition, he adds.
Her death comes at a very challenging time for the fledgling power-sharing government, our correspondent says, and will only make matters more complicated.
Mr Tsvangirai still relied on his own security teams and used his own convoys when he travelled, he adds, in a sign that he was not entirely comfortable with the security provided by the new government.
Source-kbc
---
Museveni appoints First Lady Janet State Minister
Monday, 16th February, 2009

President Yoweri Museveni announced the long-awaited Cabinet reshuffle late last night, with big surprises.

In the shake-up, Museveni dropped ministers Dr. Ezra Suruma for finance, Gen Salim Saleh (micro-finance), Ham Muliira (ICT), Maj. James Kinobe (youth), Dr. Atwooki Kasirivu (lands), Prof. Semakula Kiwanuka (investment) and Kagimu Kiwanuka for economic monitoring.

The big new comers are First Lady Janet Museveni who is now state minister for Karamoja, Gen Jeje Odongo bounced back as state minister for defence, replacing Ruth Nankabirwa who takes over from Saleh.

Veteran minister Syda Bbumba made history when she became Uganda's first woman finance minister.

A banker, Bbumba first served in energy before moving to gender.

Another veteran female minister Hajat Janat Mukwaya moved from trade to general duties in the Prime Minister's office.

The other surprise appointment was veteran politician Aggrey Awori now ICT minister, MP Joseph Kakooza is now rimary health state minister, the Rev. Father Simon Lodo is state minister for industry, Asuman Kiyingi replaces Kasirivu as state minister for lands.

The new state minister for economic monitoring is Kisira Mbuza while Jessica Alupo takes youth and children affairs. Henry Bagiire is state for agriculture.

Kinobe, Ssemakula Kiwanuka and Kagimu Kiwanuka have been appointed ambassadors together with Mrs. Angelina Wapakhabulo and former minister Betty Akech.

Vice-President Prof Gilbert Bukenya has retained kept his job just as Premier Apolo Nsibambi and deputy premiers Eriya Kategaya and Henry Kajura also did. Others who kept their positions are security minister Amama Mbabazi, defence minister Dr Crispus Kiyonga, foreign minister Sam Kutesa, works minister John Nasasira, attorney general Khiddu Makubuya.

However, controversial local government minister Major General Kahinda Otafiire now becomes trade minister replacing Mukwaya.

Gabriel Opio has been elevated to gender minister from education state minister, Adolf Mwesigye takes over local government, Daudi Migereko is Chief Whip, Hillary Onek has moved from agriculture to energy while Kabakumba Masiko is now minister for information and national guidance. Hope Mwesigye who has been state local government minister has also been elevated to powerful but delicate agriculture minister.

But third deputy prime minister Kirunda Kivejinja has now taken over the internal affairs that became vacant after Dr. Ruhakana Rugunda was appointed permanent representative to the United Nations early this year..

Suruma was appointed Senior Presidential Advisor for finance and economic planning while Gen. Saleh is Senior Presidential advisor for defence and former Vice-president Dr Wandira Kazibwe bounced back as senior advisor on micro-finance.

Other senior presidential advisors are Moses Kizige (special duties in foreign affairs), Kasirivu Atwoki (land matters) and Hamu-Mukasa Mulira (ICT).
Source- New vision
---
City church turns away 'indecently dressed' women
Monday, October 13, 2008
Several young women who had gone to attend a Sunday service at the Neno Evangelism Center in Nairobi got a rude shock when they were turned away for 'indecent dress code'.
This followed a resolution by the church's leadership to keep away women dressed in mini skirts and tight trousers. The head of the church Apostle James Maina Ng'ang'a yesterday reportedly positioned security men to identify and eject any woman dressed provocatively.
Apostle Ng'ang'a's move comes in the backdrop of reports from Uganda where the Government is planning to ban miniskirts and in Sudan where women in tight trousers were recently arrested and locked in before being released.
But the move has elicited mixed reactions with some people feeling it amounted to violation of the rights of women dictating to them how they should dress.
And despite protests from the ladies who were thrown out, yesterday's action at the Neno Evangelism Centre was applauded by many parents who felt the decision will instill discipline among faithful and foster respect for God.
Those who sided with the preacher added that women had strayed in dressing and needed to be tamed.
And just to show how serious he is, Apostle Ng'ang'a has put up a big notice at the church's entrance saying: "Ladies are advised not to wear trousers, miniskirts, tumbo cuts or any provocative mode of dressing while attending church."
With three photos illustrating the kind of dress code the church will not allow and another one showing how a descent woman should be dressed, the notice continues: "Vaa mavazi yanayo stahili unapokuja kanisani (Dress appropriately when you are coming to church).Ng'ang'a said he would not mind losing members who felt uncomfortable with his decision. He said women must dress decently for them to be allowed to worship in his church.
Yesterday's action took many by surprise as it was the first time an evangelical church was standing firm on a particular dress code.
There has been a pull and push between the elderly and the so-called young turks over the issue but most churches have expressed reservation over the matter.
Latest sensation from Nairobi Kenya Edi Gathegi