Isaac Kinity: Demonstration at the Kenya Embassy in Washington D.C
Isaac Kinity: Demonstration at the Kenya Embassy in Washington D.C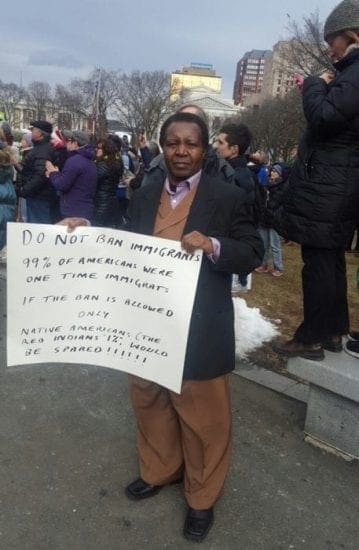 Video interview of Isaac Newton Kinity, demonstrating at the Kenya Embassy in Washington
D.C. 7 29 2011 against MPs refusal to pay taxes
---
Pride goes before destruction, a haughty spirit before a fall.  Better to be lowly in spirit along with the oppressed  than to share plunder with the proud.
There is a way that appears to be right, but in the end it leads to death. Proverbs 16:18-25
 PROTEST AT THE KENYAN EMBASSY IN WASHINGTON DC
A protest against the refusal by the Kenya Members of Parliament to pay taxes was held at the Kenyan Embassy in Washington DC, USA on the 19th. of July 2011. The protesters braved the hot sun for 2 hours raising their banners with their writings high. News crews and their cameras raised many questions about the protest. Eventually the protesters were able to meet the meet the Deputy Ambassador Ms Lucy Kiruthi.
The Deputy Kenyan Ambassador to USA who was in the company of three others officers who worked at the Embassy, were handed over the protest letter. The office was very receptive, kind, cooperative and we were treated with a lot of hospitality.
The
Embassy officials
asked to know more about the protest and were explained clearly about it and other important matters. They remained calm and listened attentively as I narrated the issues affecting Kenyans, disappointment and anger over the actions of the Kenyan Law makers. We talked  over a period of about 25 minutes.
What surprised me and others in our meeting with the officials of the Kenyan Embassy, was the answer we received about our protest letter, which we addressed to President Mwai Kibaki and Prime Minister
Raila Odinga
.
The deputy Ambassador promised to deliver the letter to the two Kenya Executives of Kenya immediately. That ended our curiosity about whether our protest would be heard. I on behalf of the Kenyans in the Diaspora, who share with us the concerns of the problems affecting our people back home in Kenya, wish to thank the deputy Ambassador and the other three Embassy officials, for the honor and the respect they accorded us at the Embassy office. Attached is the letter to President Kibaki and Prime Minister Raila Odinga. Click the link below.
Isaac Newton Kinity.
Isaac Kinity: Demonstration at the Kenya Embassy in Washington D.C